Business Loan
SME Working Capital Loan: 6 Types Of Short Term Financing Options To Boost Your Working Capital
26 June 2020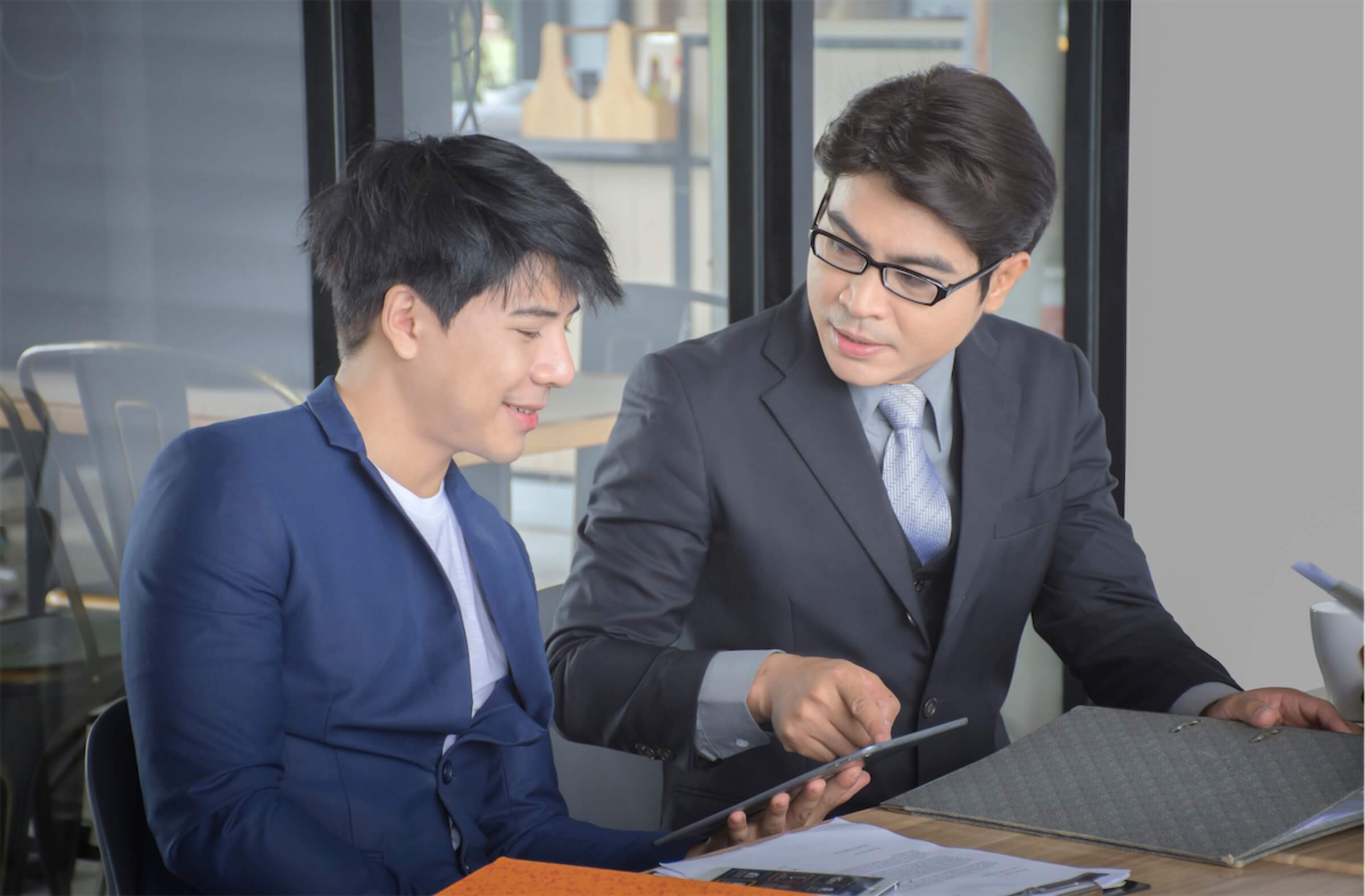 Running a business costs money. If you are an experienced business owner, you would know that it is not easy to run a startup in Singapore. From employees' pay to inventory, or even just turning the lights on, the cost of day to day operations adds up.
That is why loans are unavoidable when you are running a business in Singapore. Working capital loans are part and parcel of every startup and even established companies.
What Is An SME Working Capital Loan, And How Does It Work?
Working capital loans are a type of loan that covers the day-to-day expenses of a company's operations. They are used to provide businesses enough working capital to cover short-term expenses and operational costs. Unlike other business loans, you generally do not need to state your purpose when borrowing working capital loans, as it is a short-term loan and clearly intended to cover temporary cash flow.
Whether your business is a startup, an SME or even an online business, it is important to have sufficient working capital on hand. Besides comparing interest rates, knowing which type of working capital loan to take is crucial for the success of your business.
Why SMEs Should Take Out A Working Capital Loan
There are many reasons why SMEs take out a working capital loan. Expanding, launching new products, going into new industries — these require more resources and more expenses will be incurred. It is a common challenge many growing SMEs in Singapore face.
Getting an SME working capital loan will provide short term finance solutions and help you focus on your business. Working capital loans can cover many short-term operational costs such as payroll, space and equipment rentals, bills, daily expenses, and even help out seasonal fluctuations.
What Types Of SME Working Capital Loans Are Available?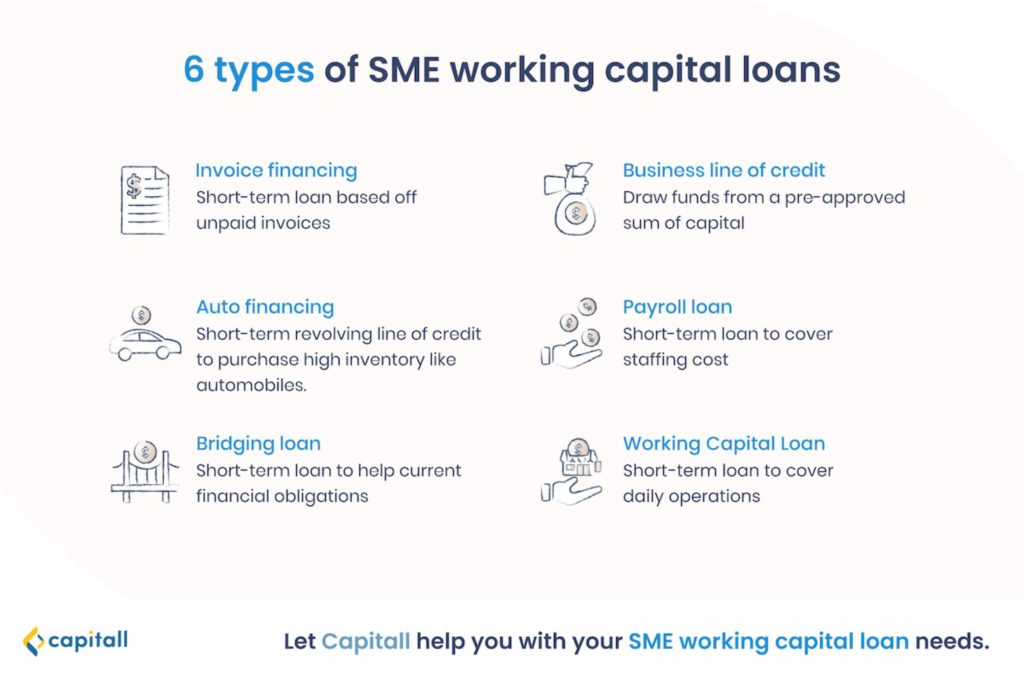 With so many types of working capital loans out there, what should you apply for? Here, we talk about 6 types of SME working capital loans and what they are suitable for.
1. Invoice Financing
Oftentimes, businesses take a long time to receive payments from clients, making it problematic to cover day to day costs. In situations like these, unpaid invoices start to accumulate and businesses face problems with cash flow.
Through taking invoice financing, you will be able to find a solution to these challenges. Invoice financing allows you to get an advance of about 80% to 90% of your outstanding invoices from lenders.
Since invoice financing is based off your unpaid invoice, this form of loan is short term. If you have a substantial amount of outstanding invoices and you are sure you can pay off your loan in a short period of time, this is a good option to consider.
2. Business Line of Credit
A business line of credit is another form of short term working capital loans SMEs often look to. With a line of credit, you will have access to a pre-approved sum of capital, and you can draw funds from it whenever you need to.
A line of credit is unique from other SME working capital loans as interest will only be charged to you when you draw an amount. SMEs and startups with a line of credit will have the security in knowing that you have some funds on hand but do not need to pay any interests until they start drawing funds from the account.
There are various ways you can get a line of credit, be it through banks or other financial institutions. Before you make a decision, be sure to compare interest rates thoroughly.
If you're a merchant looking for a Credit Line, Capitall offers a tailored Merchant Credit Line. This line of credit can be used to pay for goods from suppliers.
3. Auto Financing
In general, auto financing is a type of working capital loan that helps SME businesses purchase automobiles. It involves a revolving line of credit that allows your business to increase your vehicle fleet.
Private financial institution Capitall offers 2 types of auto financing. Car Flooring Loan is available for car dealers, while the In-House Loan is catered to businesses and individuals.
Whether you're a car dealer, a business looking to increase your fleet of vehicles, or an individual looking to purchase your dream car, having a few lines of credit such as auto financing will definitely help with cash flow and ease the burden.
Car Flooring Loan
Specially catered to car dealers, the Car Flooring Loan enables you to increase your stock of vehicles for your showroom inventory. Through this type of loan, your cash flow and working capital will be freed up for other purposes, such as to pay for urgent expenses.
In-House Loan
In-House Loan, on the other hand, is meant for both businesses and individuals looking to finance their vehicle purchase. For businesses, this type of loan allows you to buy or increase your fleet of vehicles to expand your business. It can be useful especially for businesses in the logistics and catering industries. Similarly, if you're looking to purchase your own car and do not have the means to finance it, an In-House loan can be useful to ease the strain.
4. Payroll Loan
When recession hits and SMEs are affected, companies cope through either retrenching workers or giving workers a cut. Some other SMEs, though, take a payroll loan. Taking a payroll loan allows you to pay your workers in full for a short period of time, and it's usually a short term solution to a temporal problem.
Payroll loans generally have a 1-year tenure and provide a quick solution to small businesses that want to retain their workers. Only apply for this form of SME working capital loan if you are sure you can pay back within a short period of time, and that the problem of staffing costs will not persist.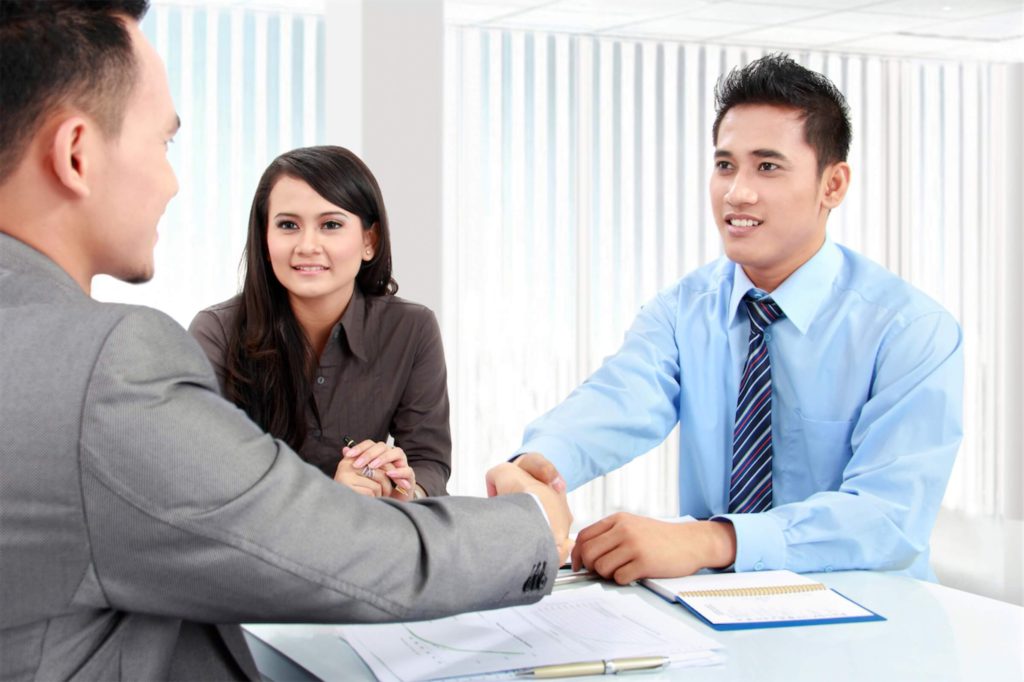 5. Bridging Loan
Bridging loans are designed specifically to help bridge a financial gap. It is a short term loan for businesses to meet current financial obligations.
For example, your business is looking at moving from an old property to a new property, but the proceeds from your sales have yet to come in. This puts you in a difficult situation—you're unable to put a downpayment for the property due to insufficient cash.

With a bridging loan, you can get immediate cash flow. You don't have to lose out on a prime property in a great location just because you do not have enough cash on hand.
Bridging loans are useful for temporary fundings and have a short tenure of about 6 months to 1 year. During this period, you will only need to repay interest. Once you have received your sales proceeds, you can make full payment for your loan. It provides a simple and straight-forward solution!
6. Working Capital Loan
A working capital loan can be used to finance a company's everyday operations, such as payroll, rent, debt payments, and inventory. As it's a type of short-term loan, it should not be used for buying long-term assets such as equipment.
It's usually used when companies do not have sufficient cash to cover day-to-day operations. Sometimes, companies take out working capital loans so that they can channel more funds for expansion.
In addition, it can come in handy especially for businesses that experience seasonal sales, such as retailers, helping them tide through periods with low sales.
Taking out a working capital loan also doesn't require an equity transaction. This means that as a business owner, you'll still have full control over your company.
Here's a table to summarise the different types of working capital loans we've covered and their benefits.
| | |
| --- | --- |
| Type | Benefits |
| Invoice financing | Improve cash flow and working capitalCapitalize opportunitiesImprove creditReduce operating expenses |
| Business Line of credit | Cover short-term business expensesCover recurring financial expensesQuick access to funds |
| Auto financing | Increase your stock of vehiclesIncrease working capitalImprove cash flow |
| Payroll loan | Covers urgent payroll expensesLower interest due to short repayment periodsAllows better management of increments in staff salaries |
| Bridging loan | Temporary fundingAbility to cover urgent business expensesLower interest due to short repayment periods |
| Working capital loan | Cover short-term business expensesFinance daily operationsSuitable for businesses with high seasonal/cyclical sales |
Other Types of Business Loans
Depending on the nature of your business, you will need to pick the most appropriate loan that suits your needs.
If you're looking for business loans that cover longer terms, you can take a look at the types of business loans available, and how you can apply for one here.
In situations where you are unsure whether to take on a loan for your business, it is important to check with a professional to give you the right advice. Finding a credible financial institution in Singapore to support your business growth is crucial. Speak with Capitall to understand more and secure your funds.