Business Loan
5 Ways You Can Use The Temporary Bridging Loan Programme (TBLP) To Sustain Your Business
12 February 2021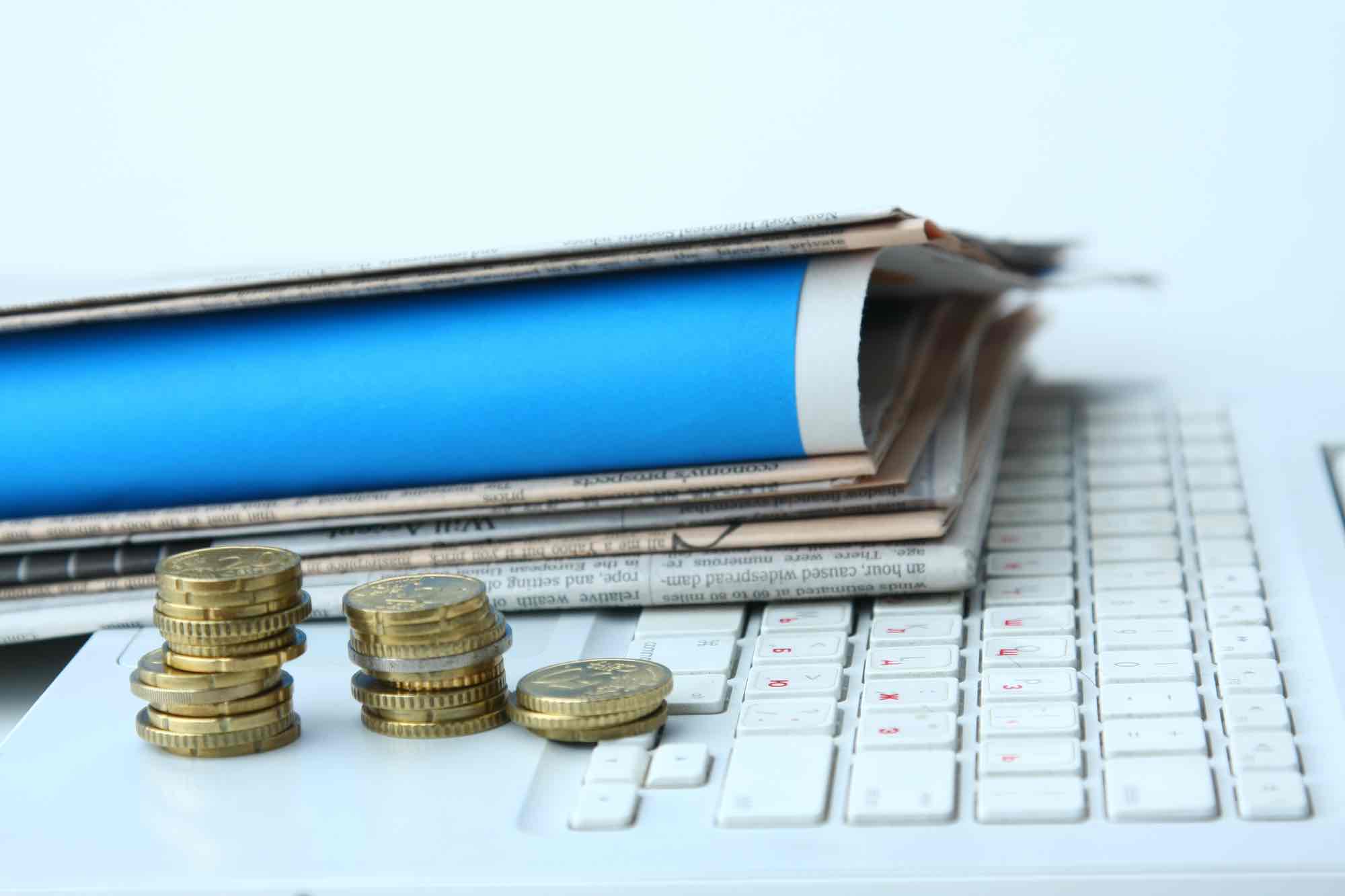 COVID-19 has affected businesses around the world — some more than others. Whether you are an MNC in a supply chain business or an SME in the media industry, your business has likely faced certain difficulties during this period. To help businesses pivot to survive the unprecedented challenges brought about by COVID-19, the Singapore government has introduced the Temporary Bridging Loan Programme (TBLP).
This scheme allows eligible businesses to obtain low-cost working capital loans of up to S$5 million with a 5-year loan tenure and an interest rate capped at 5% p.a.
Read our guide to the Temporary Bridging Loan Programme here.
While long-term profits are vital to building a sustainable business, the government-assisted loan can provide short-term cash flow that can determine whether a business survives this period.
In this article, we cover some smart ways to use the TBLP loan to sustain your business in this new environment, and answer some of the frequently asked questions.
5 Ways To Use The Temporary Bridging Loan To Sustain Your Business
While you may have established short-term goals for your business to prepare for the foreseeable challenges, all these objectives will be influenced by the current events.
Aligning how you use the Temporary Bridging Loan to meet your business goals is essential. Here, we outline the ways you can use this opportunity wisely.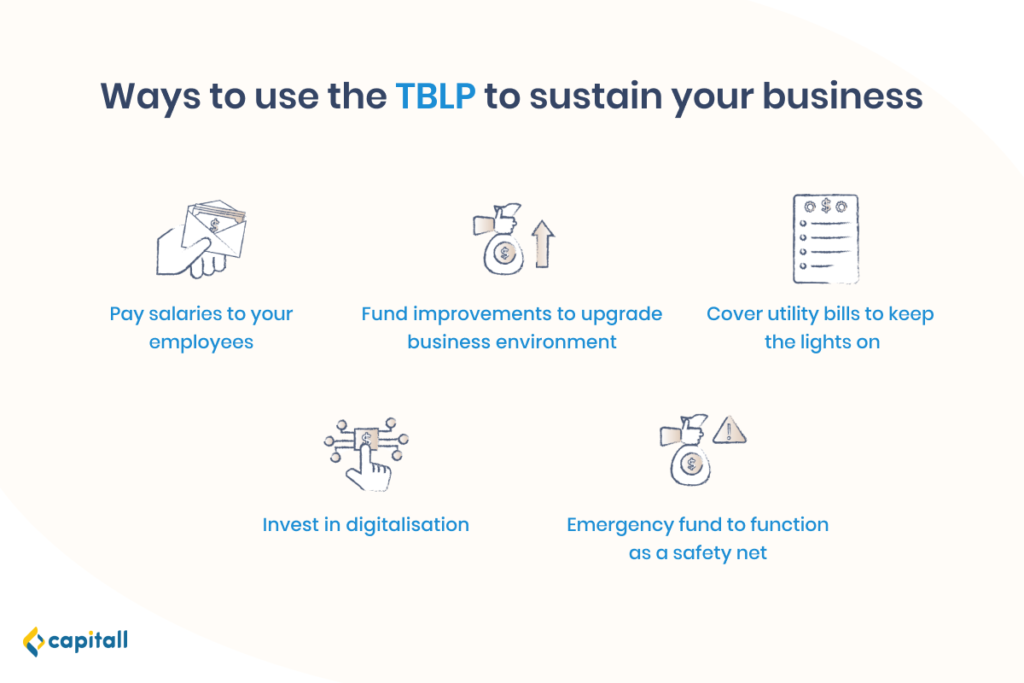 1. Paying Salaries To Your Employees
Paying salaries wasn't a business goal before the pandemic; it was a primary business responsibility.
However, as we adapt to the new normal and reconfigure business models to allocate capital more effectively, retaining employees still remains essential.
The TBLP complements other financial support measures for workers, such as the Jobs Support Scheme, Jobs Growth Incentive, and the COVID-19 Support Grant. All these programmes ensure that your employees can stay productive in the workplace, as you come up with creative solutions to sustain your business.
Learn more about the COVID-19 support loans business can take here.
2. Funding Improvements To Upgrade Business Environment
Until we can build herd immunity through the COVID-19 vaccination, your business must adapt and significantly change some habits and practices. For instance, you will have to provide masks, gloves, or even face shields for your employees.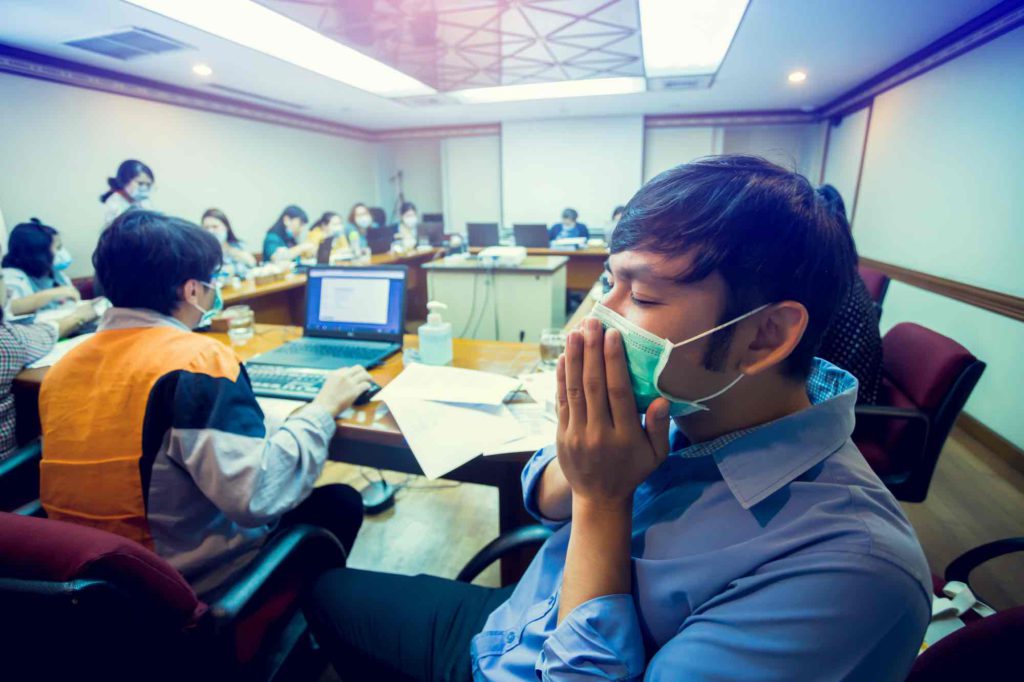 It is recommended to change your face masks every four to six hours, and considering how we work 8-hour shifts, you will have to provide your employees with replacements.
Given that wearing the right type of mask is a significant factor in preventing COVID-19 from spreading, it is essential that you get the right one for your employees.
You will also need to reorganise your space to respect safe distancing measures. Disinfecting your workplace regularly can help keep your employees and customers safe. You may want to consider UV air disinfection methods effective for confined spaces such as small meeting rooms or cars.
3. Cover Rental And Utility Bills To Keep The Lights On
Some of your employees may be alternating between working from home and going to the office for important meetings. Even if most of your employees work from home, you may still need to pay rent for your office space.
It's essential to keep your utility bills in check and pay for electricity, rent, and the internet connection to keep your business going.
4. Invest In Digitalisation
Investing and accelerating digitalisation is a smart goal for your business as it helps you stay ahead in the new normal where working remotely and shopping online is more prevalent.
This includes investing in data analytics, e-payment, and e-commerce for your customers. Furthermore, your employees will need reliable remote work solutions. Online financial management and inventory tracking are crucial too.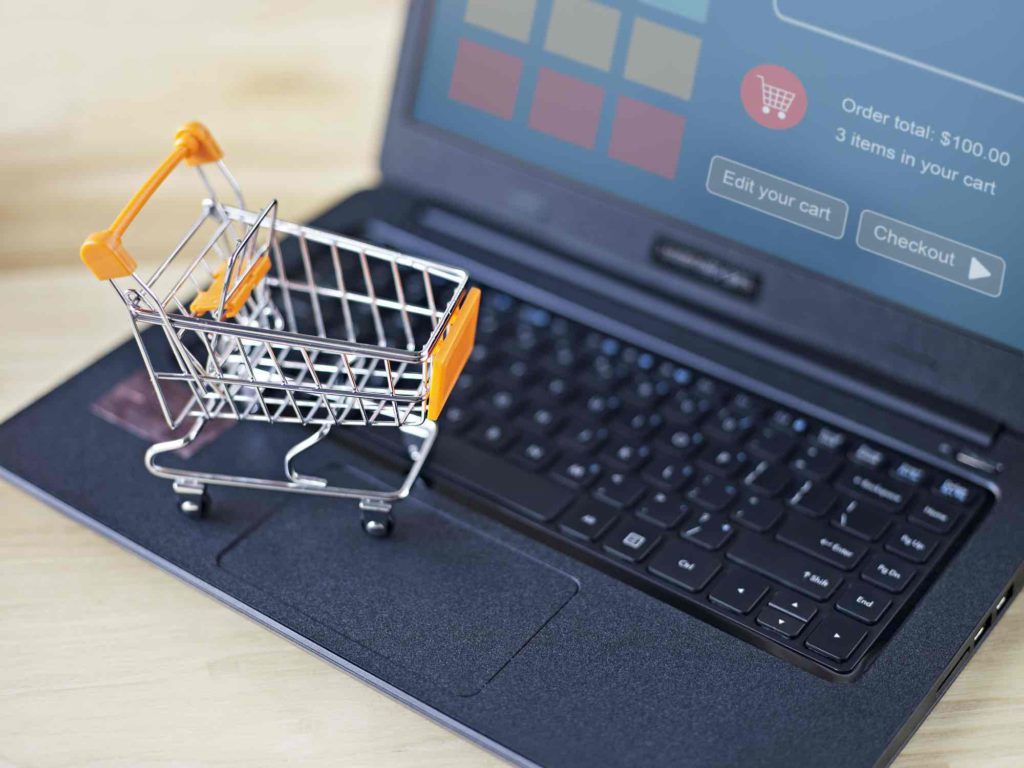 If your company isn't taking the initiative to move towards digitalisation, you may stand to lose out. By digitising your business, you can tap into new digital revenue sources and your employees will be able to work more effectively. This helps in reducing cost and wasted time, which increases overall productivity.
5. Emergency Fund To Function As A Safety Net
If you are an SME, your cash reserves may not be as significant as that of a large business. You will have to be proactive and prepare in advance for the forthcoming changes in the market.
The TBLP can help you build an emergency fund that will cushion possible challenges that your business may face.
Other FAQs About The Temporary Bridging Loan Programme
Now that you know some of the ways you can use the TBLP to sustain your business, here are some answers to frequently asked questions about the programme.
1. Can you apply for the TBLP multiple times with different Participating Financial Institutions (PFI)?
Yes, you can apply for the TBLP more than once with different PFIs.
However, the total amount you can borrow with this programme has to stay under S$5 million for applications submitted by 31 March 2021. For example, one PFI can approve a S$2.5 million loan with the TBLP, and another PFI can grant you the remaining S$2.5 million.
If you apply between 1 April 2021 and 30 September 2021, you can obtain a maximum of S$3 million.
Here's a table to summarise the working capital provided for eligible SMEs:
| | | |
| --- | --- | --- |
| | Until 31 March 2021 | From 1 April to 30 September 2021 |
| Maximum Loan Quantum | S$5 million | S$3 million |
| Government Risk Sharing | 90% risk-sharing | 70% risk-sharing |
Credit: EnterpriseSG
2. What happens if the PFIs are unwilling to approve your application even though you are eligible for the TBLP?
Even if you meet all the listed eligibility criteria, remember that each PFI has the right to assess your company before granting the loan individually.
Keep in mind that banks prefer stable Singaporean companies that have been active for at least 2 years. Your annual turnover and credit score are essential for securing favourable loan terms too.
If you need more assistance, be sure to call Enterprise Singapore at (+65) 6898 1800 or send an e-mail at enquiry@enterprisesg.gov.sg.
On the other hand, private financial institutions such as Capitall may be more likely to approve your loan. Instead of the 2-year operation requirement, your business is eligible for a loan at Capitall as long as it has been in operation for at least 10 months. Find out more about Capitall's Bridging Loan here.
3. How long is the TBLP approval process?
The approval process may take between 1 to 6 weeks depending on several factors. The waiting time may be longer due to the surge in recent loan applications.
Moreover, processing time differs from banks and financial institutions depending on the loan requirements and assessment process.
4. What if your company doesn't qualify for the TBLP?
Your company may not qualify for the TBLP if it doesn't meet the following eligibility criteria:
Business entity must be registered and physically present in Singapore
At least 30% local equity directly or indirectly by Singaporean(s) and/or Singapore PR(s), determined by the ultimate individual ownership
Other factors may include 1) not making a profit for the past 2 years, 2) not being on the market for long enough, or 3) a low credit score.
Find out why your temporary bridging loan application was rejected here.
If your business doesn't qualify for the TBLP, you can consider taking up business loans from private financial institutions.
Taking Up A Business Bridging Loan With Capitall
Capitall offers short-term bridging loans that are meant to help you meet your current financial obligations. You can get quick funding within 24 hours of application.
These bridging loans can be used to fund renovation works, secure business opportunities, or even cover urgent business expenses.
Need advice on growing your business capital? Our financial advisors at Capitall can help you. Talk to us today.