Business Loan
5 Reasons Why Your SME Needs a Working Capital Loan
06 August 2020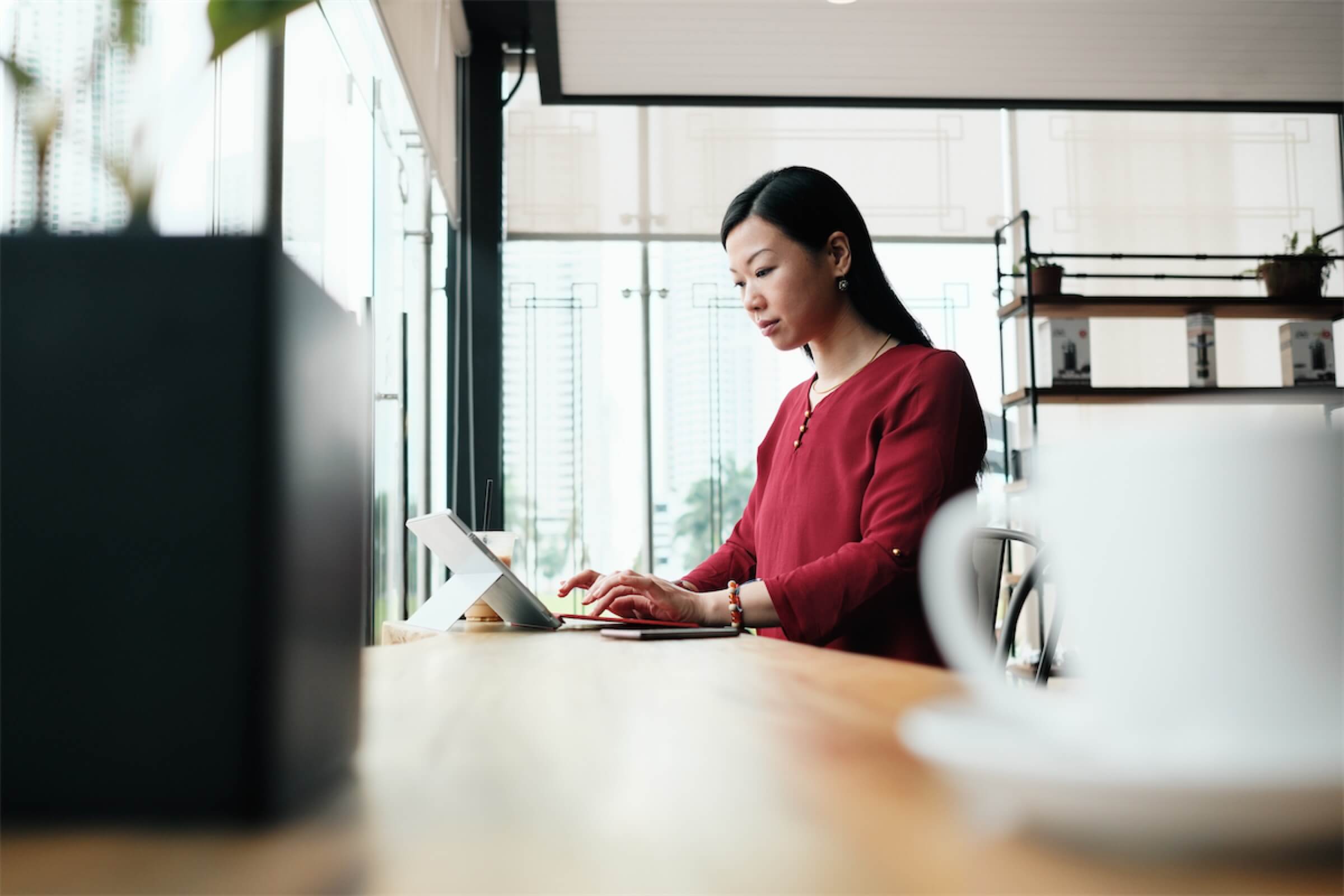 Utilities, staff salaries, inventory, equipment rental — these are just some aspects that make up day-to-day operational costs. To keep your business running, you first need to have enough capital to get it started. And this is perhaps the greatest challenge of most businesses.
Working capital is, fundamentally, a term for having money on hand. If your assets outweigh your liabilities, you have 'working capital'. There are many ways you can look to increase your working capital. We've highlighted some common ones here:
Ways to increase your working capital
Get an SME working capital loan
Sell long-term assets for cash
Replace short-term debt with long-term debt
Choose vendors with discounts
Analyse fixed and variable costs
Source: Accounting Coach
Having sufficient working capital is an ongoing challenge faced by all businesses. It's not hard to see why businesses, including SMEs, take working capital loans in Singapore. Working capital loans cover basic operational costs and allow businesses to channel their funds into other ventures.
Taking a loan to cover day-to-day costs can help you free up your funds and focus on your company's growth.
Here, we will be discussing how taking a working capital loan can help SME businesses.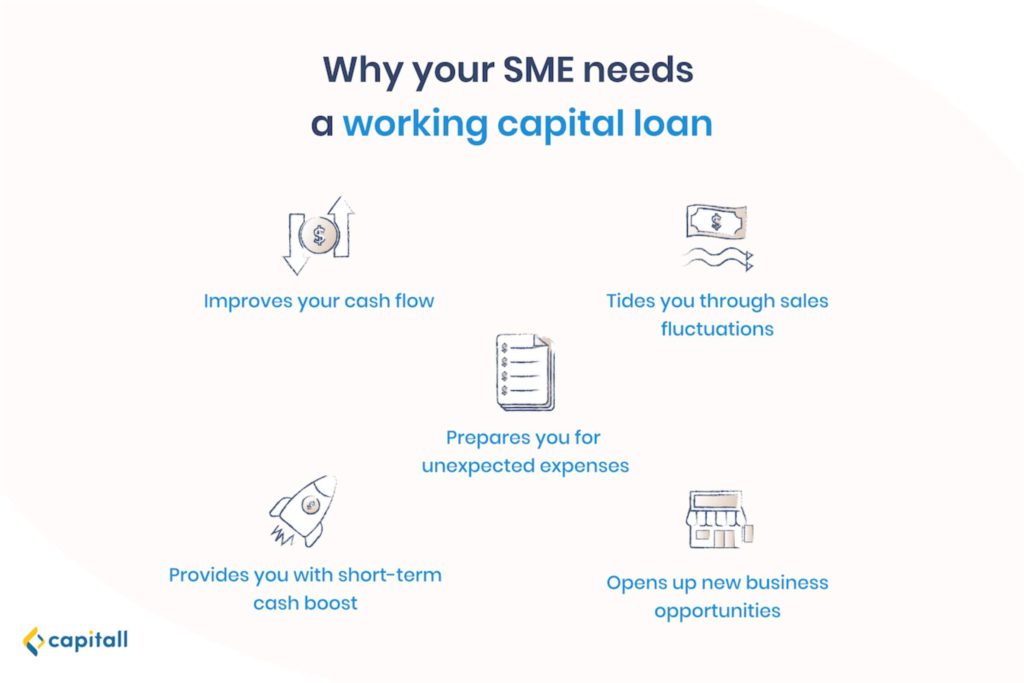 1. It Can Improve Your Cash Flow
When you're running a business, it's always important to have some extra cash on hand. Having access to funds keeps you prepared in times of unexpected circumstances.
One problem many SMEs face is late payment from their clients. Receiving payment late can pose lots of challenges as it affects your ability to pay bills or salary for your workers.
With access to funds, taking a working capital loan for your SME allows you to tide over these temporary cash flow problems.
Cash flow challenges also occur during expansions and growth. Transitioning into a new industry or diversifying will demand a reallocation of resources.
Funds will need to be channelled into new ventures, and that could take away resources that were meant to cover operational costs. Taking up a working capital loan is a viable option that can help you focus on growth while still allowing your business to run.
If this situation sounds familiar to you, perhaps your business is at this very same juncture. Taking the right loan plays a vital role in the growth of your company. As such, private financial institutions such as Capitall provide a wide range of holistic financial services tailored for this need.
2. It Provides You With A Short Term Cash Boost
There are many reasons why SMEs need a short term cash boost. Some of them need access to funds during downswings in their business cycle, while others are met with unforeseen situations.
Businesses that have clients of other businesses often face the challenge of receiving late payment, which can affect their cash flow.
Having access to funds when you need them the most can help you cope with these challenges. Regardless of the challenges your business is facing, you will still need to deal with payrolls and daily operational costs.
Taking a working capital loan is helpful for SMEs because there are no restrictions on how you want to use your funds.
Whether it is to help you cope with vendor payments, payrolls, your inventory, or help solve temporary and seasonal challenges; SME working capital loans act as a 'cushion' to shoulder short-term cash problems. Giving you the space to focus on growing your business or new strategies to cope with challenges.
3. It Tides You Through Sales Fluctuations
Every business will face seasonal fluctuations. If goods and services provided are closely linked to festivities, these SMEs will face various fluctuations throughout the year. Gift shops, for instance, generally see a spike in sales during the Christmas season. Once celebrations die down, sales generally fall.
What should businesses do during off-seasons? Most try to diversify or roll out new products. Campaigning and running promotions also help SMEs drive sales during off-seasons. These strategies are all great, but they also require you to set aside some funds for advertising.
Moreover, campaigns require a lead time before they take off.
In situations like these, getting a working capital loan will definitely be helpful.
SME working capital loans not only help you cope with cash flow. It also helps you fund your new strategies in dealing with market fluctuations. Having a ready pool of funds which you can access can help you solve short term problems.
The key to managing seasonal fluctuations is to expect them beforehand. It is often easier to take a loan when the business is doing well.
Getting your loan application approved when your business isn't doing as great can be more challenging. As such, it's wiser to plan ahead and apply for a working capital loan during peak periods, so that you can have ready access to funds during downturns.
4. It Opens Up New Business Opportunities
Business opportunities come and go quickly. To capitalise on rising trends, it's important for SMEs to be opportunistic. To do that, though, SMEs will need enough funds, which is where working capital loans come in handy.
Having extra cash on hand allows SMEs to take on new opportunities which potentially generate higher revenues. Taking a loan is not always a sign of a faltering business. In fact, many expanding SMEs take loans too.
Why should SMEs take loans when they see a new business opportunity? Why not save up for enough surplus and go into a new venture without a loan?
Here's the thing — business opportunities are rare and difficult to come by. SMEs need to be opportunistic and stay ahead of trends if they want to stand out.
Launching new products, bulk inventory purchase, getting a new retail space — these are all signs of growth. Through taking a working capital loan, SMEs can stay ahead of the competition more effectively.
5. It Prepares You For Unforeseen Circumstances
Seasonal fluctuations can be projected, but unforeseen circumstances are hard to predict. For instance, the spread of COVID-19 has affected the revenue of many businesses. The tourism industry, dining, and entertainment industries have all been hit as people are choosing to stay at home.
Additionally, due to governmental measures, businesses in specific industries have taken a hit.
To create social distancing and reduce contact, gyms, enrichment centres, and tuition centres have to shut down for weeks. Atrium sales and open exhibits also have to be suspended. In unexpected times like these, businesses face challenges that they are rarely prepared for.
Other unexpected situations businesses face include sudden equipment breakdowns or discontinuation of long term client relationships. These situations greatly impact SMEs' revenues and require urgent solutions.
It's important to have ready access to funds to tide through these unexpected circumstances. In general, getting loans approved with banks takes a much longer time as your business needs to meet more stringent requirements.
If your business is dealing with the financial impact of unforeseen circumstances, it's important to speak to someone who can give you the appropriate advice.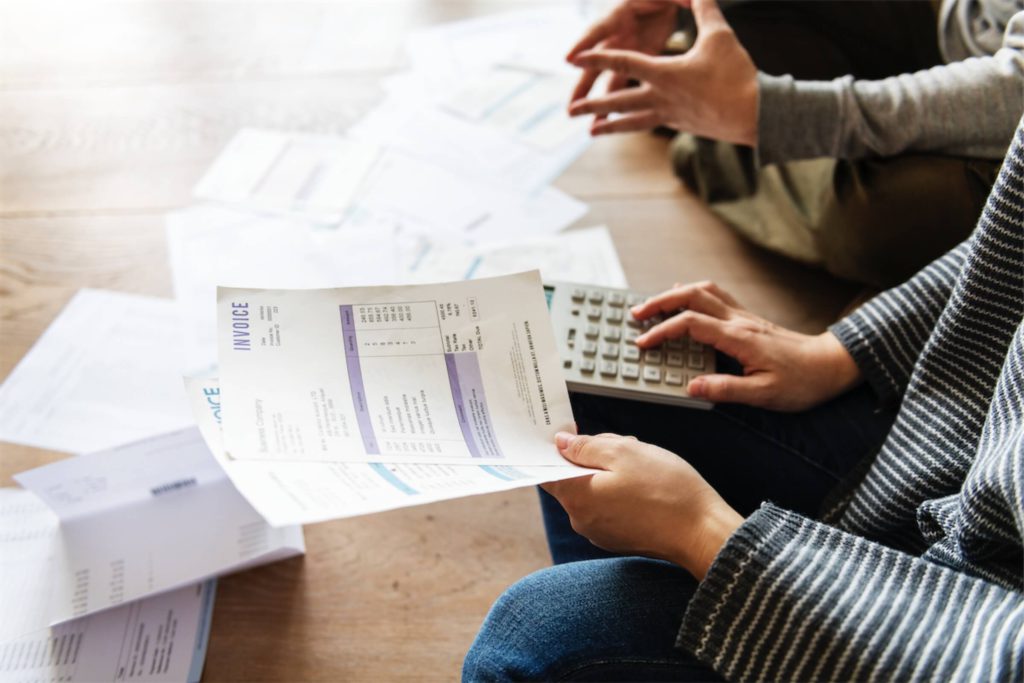 Taking A Working Capital Loan For Your SME
There are many reasons why SMEs need to take a loan. Different businesses have different challenges. But before jumping in and applying for a loan, it's important for you to identify how you will make use of the funds, how much you need to borrow, and that you have an idea of how long it will take to repay your debt fully. Make sure you have gone through these 5 essential questions before taking an SME working capital loan.
Taking a loan is not a sign of bad performance. However, taking a loan and not being able to repay on time will definitely hurt your credit history.
Curious to know what are the types of SME working capital loan available? Or perhaps you know that you need one but you're unsure what's suitable for your business? Read all about the 6 different types of SME working capital loans here.
Every business needs a specific strategy to deal with their unique goals. Financial professionals at Capitall are ready to help and tailor working capital loans that suit your specific needs.