Business Loan
4 Essential Questions To Ask Before Engaging An SME Loan Broker In Singapore
04 September 2020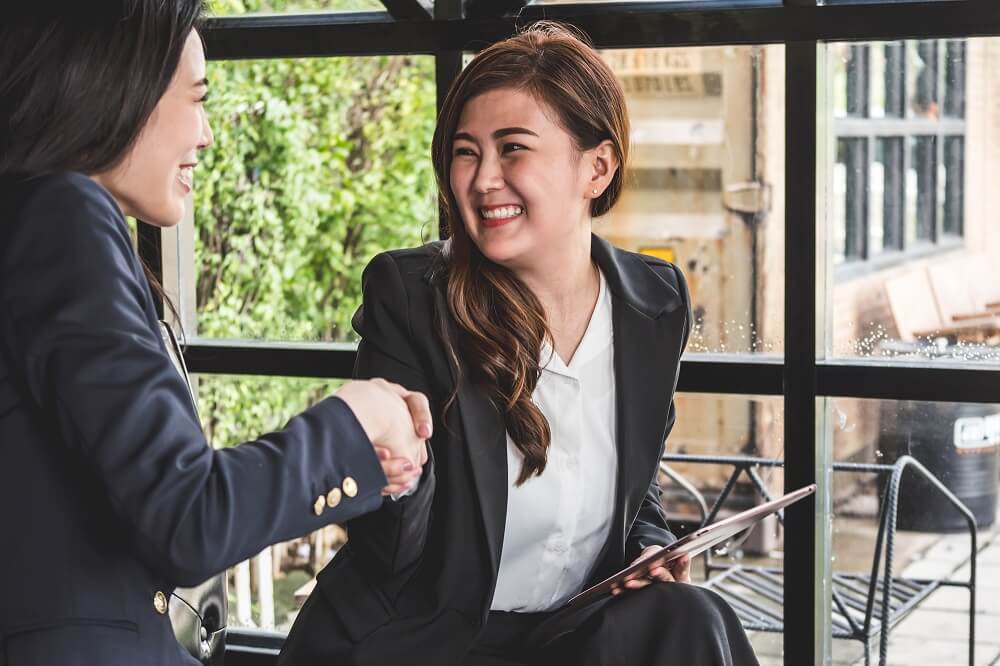 This period of unexpected circumstances in Singapore is forcing SMEs to face monumental challenges. Businesses from almost every sector have been impacted by the recession and the Covid-19 situation. If your SME business has been hit, you are likely looking for solutions right now to tide through this season. So where does a Singapore SME loan broker come in?
Unsurprisingly, getting a loan in Singapore during this period might be difficult especially if your business is not doing well. Perhaps you have submitted a loan application to the bank but it has been rejected. Despite government subsidies, you still need some capital on your hands to keep the lights on. What can you do? Is it still possible to get a loan?
If your business loan has been rejected by the bank, that does not mean it is the end of the road. You can still get access to capital through an SME loan broker in Singapore. In this article, we will be discussing some essential questions you will need to ask before you engage an SME loan broker in Singapore to help you get the loan you need.
In recent years, businesses have been taking more and more loans. As such, it is not uncommon for some SMEs to be turned down by banks since they see many applications on a regular basis. If you have been rejected by a bank, there is still a chance for you to get the loan you need — and that is through loan brokers.
If you have never worked with SME loan brokers before, you are not alone! In fact, you should do your research before making a haphazard decision to engage a loan broker. To learn more about SME loan brokers, read this article to find out more.
Unsure of the difference between borrowing directly from a lender or through a loan broker in Singapore? Learn more here.
What Are The Essential Questions To Ask?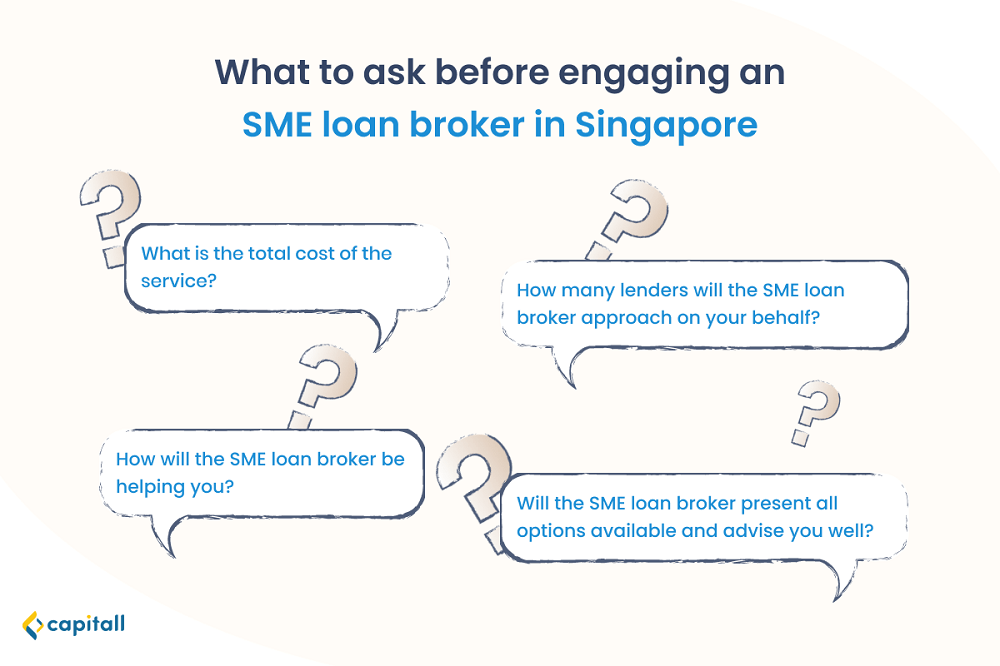 Clear communication is vital when it comes to taking loans through a loan broker. Establishing a good relationship is beneficial for all parties involved. Before signing the dotted line, you will need to ensure you have thought through a few things. Here are 4 questions you will need to be clear about.
1. What Is The Total Cost Of Working With An SME Loan Broker in Singapore?
Different SME loan brokers will have different charges for their service. Typically the amount you are charged is around 3% to 6% of the approved loan amount. Nonetheless, there are some brokers who choose to quote a flat fee instead of a percentage.

As the industry is largely unregulated, you will definitely need to ask around and compare charges before deciding which broker you should work with.
Some brokers in the market overcharge their services and you end up having to shoulder even more financial burden than you expected to.

Broker fees aside, when you are getting a loan with private financial institutions or banks, you will usually know the fees you have to pay upfront. Nonetheless, your loan broker should also advise you on any additional hidden fees which add up to the total cost. Some of these fees include early termination fees, account maintenance costs, switching fees, among others.
During your discussion with your broker, make sure you get all the charges and fees in writing so that there is no ambiguity in your transaction.
2. How Exactly Will Your SME Loan Broker Be Helping You?
This might seem obvious but you need to ensure that the loan broker you are working with wants to help you out financially, and is not just in it for their own profit. But how can you ensure that the broker you are working with genuinely wants to help you out?
Before working with any SME loan broker in Singapore, the best you could potentially do is to always ask what is the strategy for helping to get the best business loan out there for you.

You want your SME loan broker to be sending out applications to as many lenders as you can so that lenders will compete for your business.
Ideally, your applications should be sent out strategically to different lenders. You do not want to work with an SME loan broker who randomly sends out applications to any lender they know. Brokers who truly want to help you financially will use their connections and ensure that you get the best deal.
That aside, you will also want to make sure you are working with a broker who is honest with you.
You do not want to work with any broker that only gives you big promises about your case. You will need someone who is upfront about the strengths and weaknesses of your application and find ways to help you improve your case.
3. How Many Lenders Will The SME Loan Broker In Singapore Approach On Your Behalf?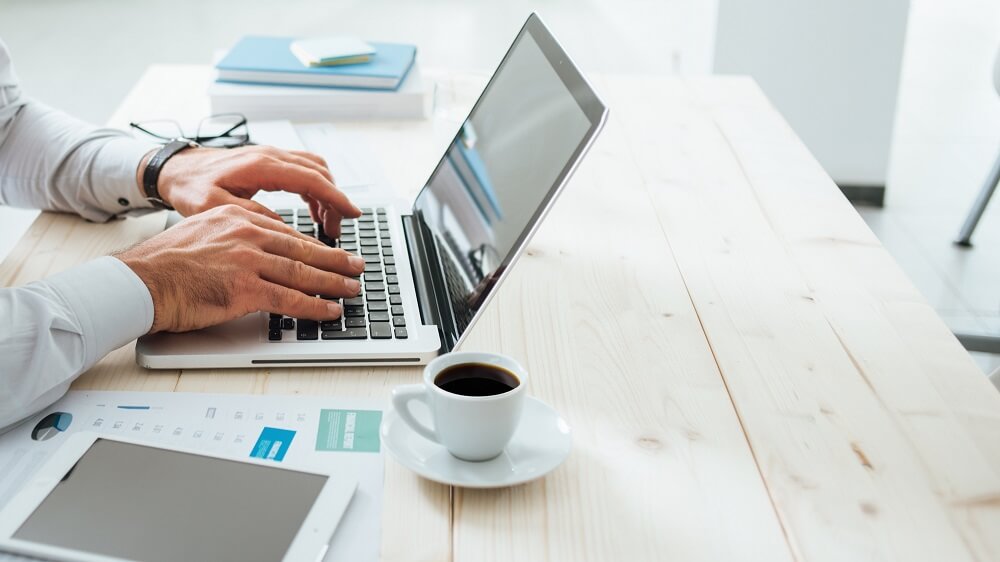 The main reason why businesses approach brokers is due to the convenience that comes with the service they offer.
Sourcing for lenders and banks that offer good rates is troublesome and time-consuming. But with brokers, the cumbersome aspects of getting a loan is taken off your plate!

That is why it is important to ensure your broker is sending out enough applications for you.
If the broker does not have enough existing relationships with a wide range of potential funders, it is difficult for them to help you get the lowest possible rates in the market.

Approaching many lenders and banks on your behalf will allow brokers to compare interest rates effectively.
Again, before making a deal with your broker, make sure to have a clear idea on the number of parties they will approach on your behalf so you have an idea of how well connected they are.
4. Will The SME Loan Broker Present All Options Available And Advise You Well?
Loan brokers in Singapore run a business after all. And as much as they want to help you out financially, ensuring that they make good profits is naturally still one of their priorities.
Since brokers' services are charged based on your total approved loan amount, it would be in their interest to persuade you to get the highest priced option. In some cases, the higher priced option might benefit you more but sometimes, it is not in your best interest to opt for these plans.

To stay informed, make sure you ask your broker to share and compare multiple options with you so that you can make a more informed choice. You do not want to jump on the one and only option your broker presents you.

Brokers who are genuine and trustworthy will do their best in educating you about the different options available and what that can do for your business. They should be aware of different forms of loans in the market, such as secured and unsecured working capital loans, among others.
Taking time to educate you is part of their service. If the broker you are working with finds it a hassle to go through your questions with you, they are probably not the kind of broker you want to work with.
On the surface, it can be hard to tell whether one SME loan broker in Singapore is better than another. However, if you know how to ask the right questions and be clear with your expectations, you will be able to tell which broker you can trust to help you get the loan you need.
Before diving in and committing to a broker, ensure the broker you are working with is willing to answer all your questions and is not just focused on making their own profits.
What to ask
Why it matters
What is the total cost?
You want to get a feel of whether hiring the loan broker is worth it, and to have a clear understanding of the full cost of taking the loan.
How will your SME loan broker be helping you?
To ensure your SME loan broker is not just in it for the profit, and has a good plan in helping to get the best business loan that is suitable for you.
How many lenders will your SME loan broker be approaching?
To get the best rates and terms for you out there in the market, your broker should be sending out not just a few applications to lenders.
Will your broker present all options and provide sound advice?
You want to make sure that your broker is not presenting you options that benefit him and not you.

Your broker should also be adding value by giving you good advice and be open to addressing your concerns or questions.
Getting a loan should be a means to help you elevate financial burdens you have on hand, and not add to your financial stress. The last thing you want is to pay an unnecessarily high amount of interest rate and find that you lose out even more.
Still wondering if getting a loan in Singapore through a broker is the best idea? Take a look at this article here.
You can also get a business loan directly from a reputable lender in Singapore. Here at Capitall, you can get the best business loan for your SME within 24 hours.