Business Loan
How Do You Calculate The Hire Purchase Cost Of Cars For Your Business?
23 May 2021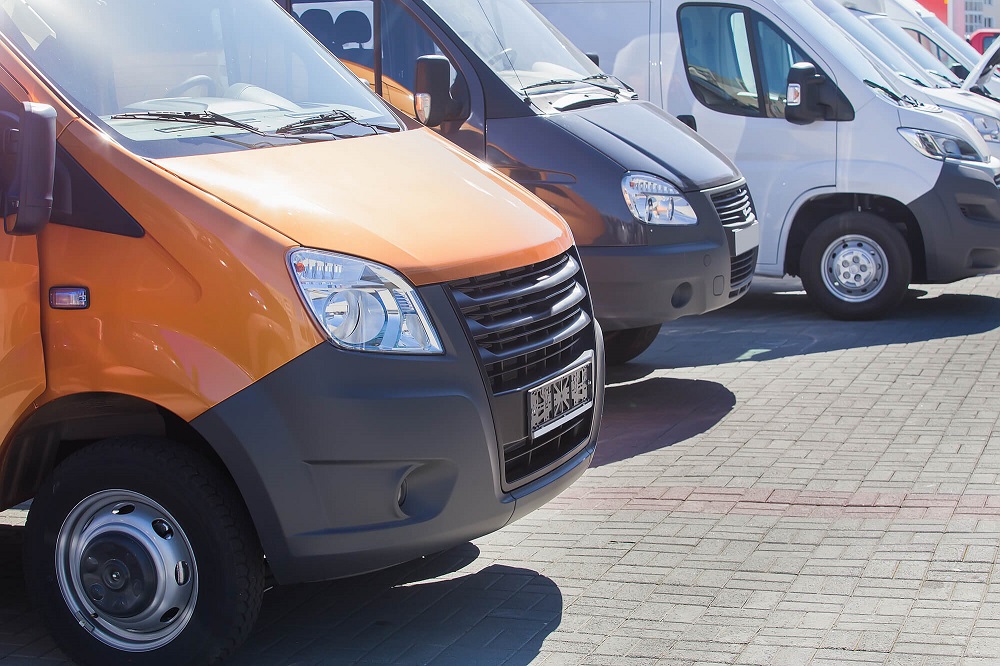 Taking on hire purchase is a good way to spread the cost of big ticket items, such as cars for your business. But it is also said that hire purchase may be more expensive than taking out a business loan.
In this article, we will analyse how hire purchase works, as well as how to calculate the costs. We will also share the pros and cons, plus essential factors to consider before signing a hire purchase agreement.
How Does Commercial Hire Purchase Car Loan Work?
The definition of hire purchase is similar to that of a loan: you sign a contract to purchase something that you would otherwise not be able to afford, and repay the remaining sum in instalments and interest.
Here are the key aspects you need to know about hire purchase.
Ownership
Although it is a type of loan agreement, the meaning of hire purchase is different from an instalment plan as you will only own the cars after completing your repayments.
Under a hire purchase agreement, your lender is actually buying the cars and lending them to you during the loan duration.
Interest
The interest to be paid will be a flat rate and calculated from the initial principal amount you are paying.
While this means that the interest does not decrease over time, the advantage is that you will know exactly how much you will be paying from the start of the hire purchase tenure.
Tenure
Another good thing about hire purchase is that the tenure is lengthy, usually lasting about 7 years.
Although this means that a hire purchase agreement is a more expensive loan option, the good news is that it gives you increased flexibility in repayment.
Loan Quantum
A hire purchase agreement can only cover 70% to 80% of the purchase price or market valuation. This means you will need to pay an upfront down payment of 20% to 30% for your cars.
How To Calculate The Repayments For A Commercial Hire Purchase Car Loan?
Let's say you are planning to purchase a few vehicles for your business operations for a total of S$100,000. Hire purchase for cars in Singapore has a loan quantum of 70% to 80%.
For illustration purposes, let's say your hire purchase has a loan quantum of 80%, with a loan tenure of 5 years and 3.9% interest rate.
Here is a breakdown of the down payment and instalments to be paid: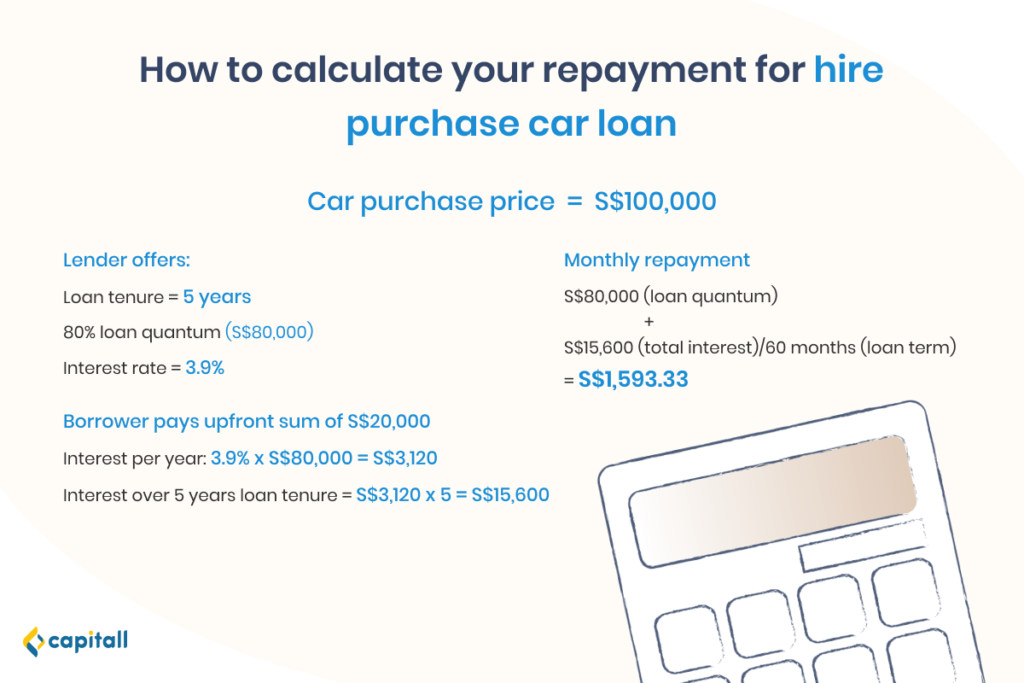 Pros And Cons Of Hire Purchase
Similar to any other financial product, there are pros and cons that you need to be aware of, so that you will choose one that best fits your business needs.
Pros
Better cash flow: Instead of putting a massive amount of money into purchasing cars upfront, you pay affordable monthly instalments. This way, you can use your cash flow to pay for other urgent expenses and expand your business.
Flexible repayment schedule: You can negotiate a repayment scheme based on your trading patterns and cash flow.
Cons
You do not own the cars from the start: The vehicles will only belong to you after making all the payments. If you cannot repay the instalments, the lender has the right to repossess them.
Learn more about the benefits and drawbacks of hire purchase agreements here.
How To Apply For A Commercial Hire Purchase Car Loan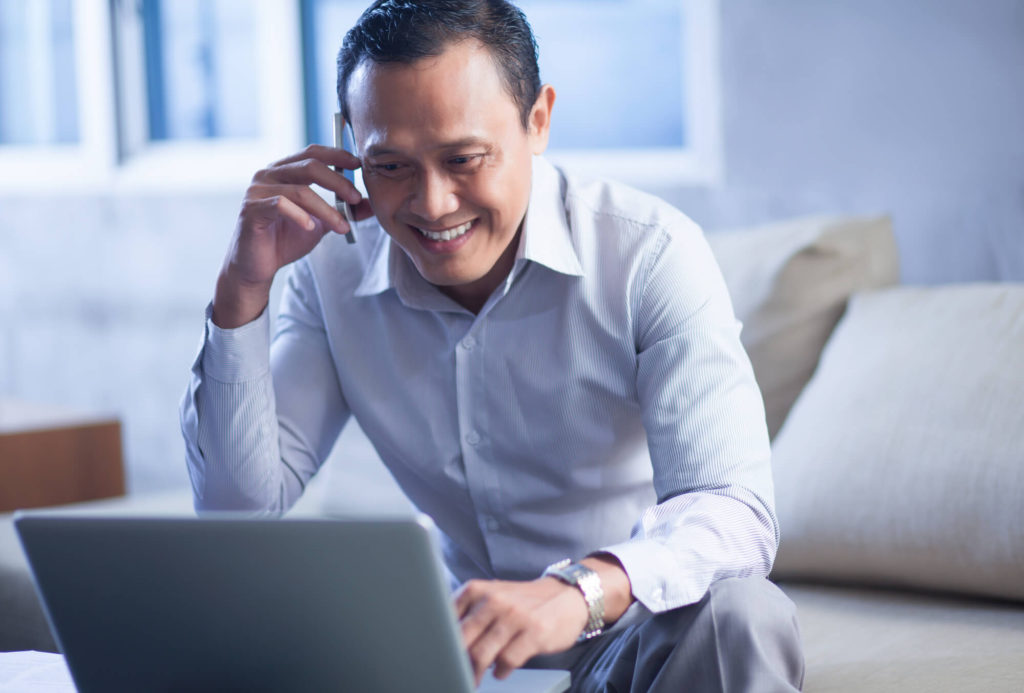 In Singapore, businesses have a wide range of options to take out car loans. From banks to private financial institutions, each offers financial products that come with their own benefits.
Here, we compare the hire purchase options offered by banks, auto dealers, and private financial institutions in Singapore.
Bank
Pros
You can choose from a wide array of interest rates depending on your lender.
You can choose from various loan packages from a variety of lenders.
The tenure is 1 to 7 years.
Cons:
You will need to have a good credit score.
Auto Dealer
Pros:
Cons:
The balloon payment may be too large for your budget.
Find out more about the differences between taking a car loan from a bank vs an auto dealer here.
Capitall
Offering hire purchase loans of reasonable interest rates, Capitall has always aimed to meet the needs of our customers.
One advantage Capitall has is that we offer fast approvals within one business day. For hire purchase of commercial fleets, minimal documentation is required to be submitted as well.
This is helpful to business owners and companies who need to purchase vehicles for their business quickly.
This table outlines Capitall's loan application process.
Capitall's Loan Application Process
Step 1
Fill in your contact information and send the loan request.
Step 2
Submit the required documents for a quick evaluation

A copy of your company's ACRACopies of the company's director or sole proprietor's NRIC (both front and back)Income proof (latest 2 years of Income Tax Notice of Assessment, or past 3 months of company bank statement)Completed application form
Step 3
Check your approval results.
Step 4
Endorse the loan contract.
Step 5
Drive away.
FAQs To Take Note When Applying For A Hire Purchase Car Loan For Your Business
Financial Condition
Before signing up for a hire purchase car loan, ask yourself whether this purchase is essential for your business to thrive. Will these vehicles add value to your business?
Also, ensure that this loan is within your budget. It should be affordable and not cause a strain on your company's finances.
Interest Rates
Be sure to use a hire purchase interest calculator to compare loan options from different providers to get the best rates.
Terms
Consider all the terms before signing the hire purchase agreement, such as penalties, additional charges, balloon option payments, and eligibility criteria. You can also use a car loan calculator to compare these terms.
Repayment Flexibility
If your business has seasonal trading patterns, be sure to check if your lender is agreeable to a flexible repayment calendar. Should unexpected expenses arise, you will still be able to adjust your repayment schedule.
Loan Feature
Make sure you understand and agree to all the loan features before signing the contract. You may also want to look into other options such as a business loan to ensure that you are making the right choice.
Need a business loan? Here are some tips to make the application process easier.
Whether you are planning to get a business loan or a hire purchase loan, it should not be a complicated process.
At Capitall, we aim to help business owners capitalise on business opportunities. Offering low interest rates and fast approvals, let us help you in your business journey.
Ready to apply hire purchase loans for your business fleet? Get in touch with Capitall.