Business Loan
5 Ways To Get A Higher Credit Limit For Your Business Line Of Credit
20 November 2020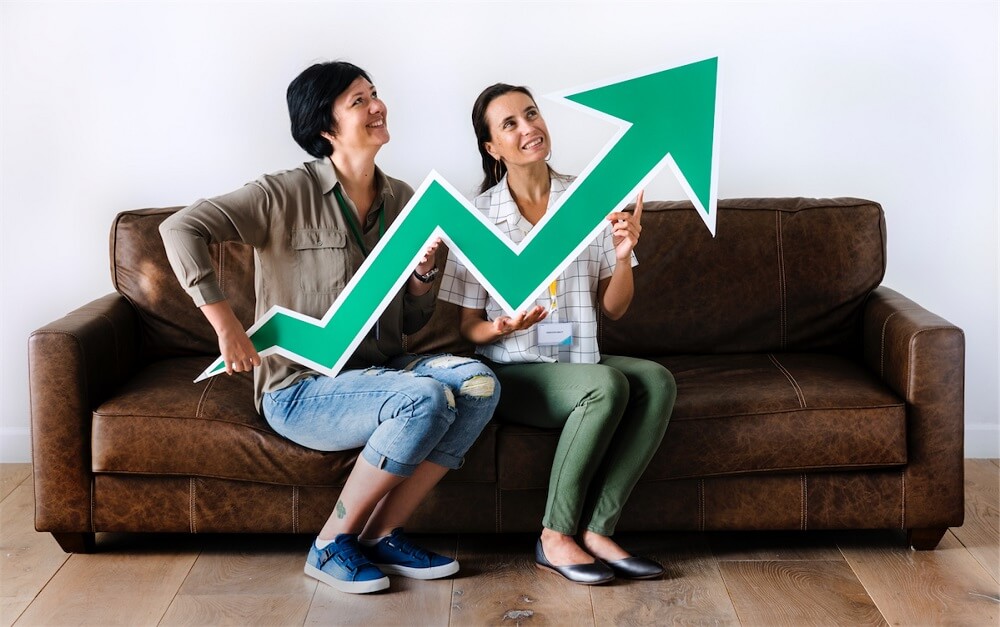 Have a business line of credit and looking to expand and build your business? Then you might want to consider increasing your credit limit. Getting a higher limit is beneficial as you can access extra funds during emergencies or use it to seize opportunities.
That said, requesting an increase in your business line of credit can be difficult. To prevent facing rejection, you should make sure you are well-prepared. Here, we are going to share what is a business line of credit and ways you can get a higher limit for it.
What Is A Business Line Of Credit?
A business line of credit is a type of loan where borrowers can withdraw funds at an agreed limit at any point in time.
In general, this is how a business line of credit works:
| | |
| --- | --- |
| Step 1: | The borrower and lender will agree on the limit amount alongside other things such as fees and minimum monthly repayment. |
| Step 2: | The borrower will be able to take out credits whenever required, but within the limit. |
| Step 3: | The borrower will repay the outstanding debt. There are 2 ways: through one full payment or monthly repayments |
| Step 4: | After clearing the outstanding debt, the borrower will have full credit available and can withdraw credit whenever it is needed again |
A business line of credit allows businesses to have short-term financing when they require it. When you repay the interest, fees, and the amount borrowed, you will be able to withdraw funds again based on the limit set.
How can a business line of credit help your SME? Find out more here.
Why Is A Higher Credit Limit For Your Business Line Of Credit Helpful?
Business line of credit differs from business loans. While business loans require you to pay interest based on the entire loan amount, a business line of credit only charges interest based on the amount that was withdrawn by the borrower. Hence, businesses can save money in terms of interest rate payments.
Moreover, with a business line of credit, you can withdraw funds whenever you need to. This gives your business the flexibility and space to explore, and tap in on the extra funding only when needed.
With a business line of credit, you are typically able to make early full repayment without being charged an early repayment fee. Apart from that, most of the lines of credit are unsecured — meaning you do not have to provide collateral to the lender to get financing.
5 Ways To Obtain A Higher Credit Limit For Your Business Line Of Credit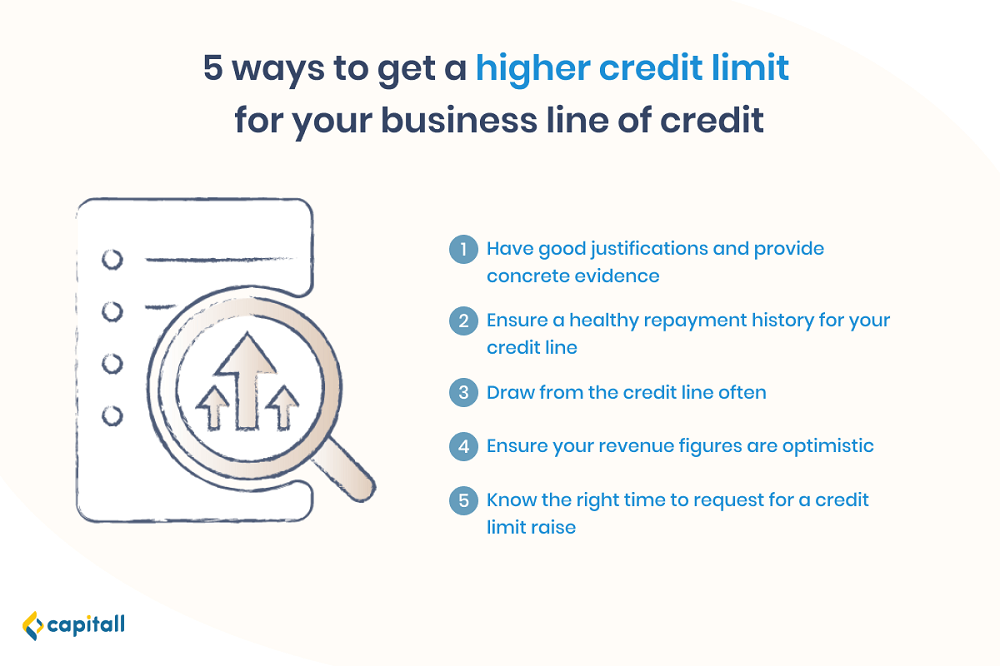 1. Have Valid Reasons For Requesting A Higher Credit Limit
First of all, it would be beneficial to have a concrete reason or evidence as to why you need this increase.
For example, if your business has more orders to fulfil, you can present documents like your purchase order or contracts to your lender. These would give the lenders reasons to approve your credit limit increase.
Providing less desirable reasons such as to tide over cash flow issues may land you a rejection. Such reasons can make lenders feel that you do not have the capability to repay and they even may end up withdrawing your credit line.
2. Ensure You Make Punctual Repayments
If you have been making repayments punctually, lenders will notice the responsible conduct and they may feel more confident to raise your limit.
Keeping up with your repayments is a good habit. Banks and financial institutions will check and take this into account before deciding on whether they would want to approve the request. Other personal credit such as credit cards, car loan, and home loan payments should also be promptly repaid.
Overall, keeping up timely repayments in all your credit facilities will likely increase your chances of getting a higher limit.
3. Make Sure You Draw From The Business Credit Line Often
Make sure that you draw from your business credit line regularly. Lenders may be less willing to approve your credit limit increase if you have not been drawing from the business line of credit.
This is because it will give off the perception that you will not use your business line of credit even after they have approved your request. Lenders don't get to earn interest if you don't use your line of credit. Hence, they would see no value in granting that request.
4. Ensure Your Revenue Figures Look Optimistic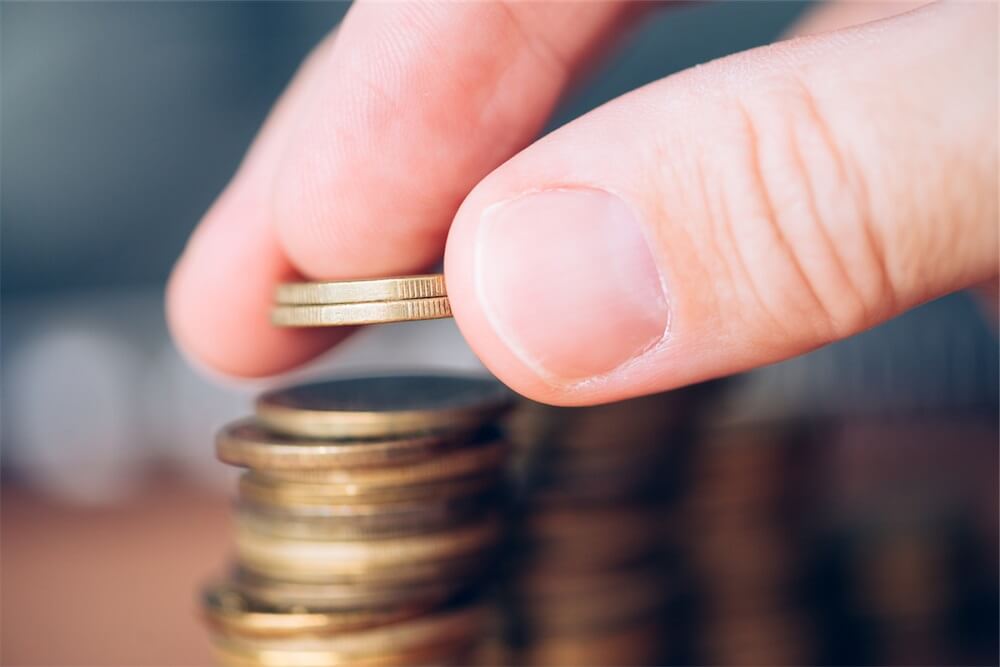 In order to get a higher chance of approval on your request, you have to ensure that your business revenue figures look optimistic. This is an important factor when lenders assess whether to go ahead with your request.
If your revenue has increased year on year, most of the banks and lenders will be more than willing to increase the limit. It is also important that you have updated figures on your financial reports so that you can present them to the lender when requesting for the increase.
5. Know When To Request For A Credit Limit Raise
A standard practice for most banks and financial institutions is to review your credit line a year after it has been granted. Requesting an increase a few months into getting your credit line may lead to rejection. Similarly, if you ask for an increase once every few months, you could likely raise a red flag with your lender.
If your lender fails to review your business line of credit after a year, you can then try to request for the limit increase. The point is to only ask after about a year.
If your lender is open to discuss, a good rule of thumb is to ask for an increase of 10% to 25%. If you request for anything higher than this, it can lead to rejection, and you may have to sit out the request for another few months.
With the exception that you have large orders or contracts, it is wise to not ask for an amount that is too high.
Getting A Higher Credit Limit For Your Business Line Of Credit
While a business line of credit allows you to tap into more investment opportunities, it may also encourage you to spend beyond your means.
Thus, it is best to know the right sum to get and manage your business finances well. After all, you do not want to bite off more than you can chew and land yourself in bad debt.
Consider taking a business line of credit? Here are 6 things you should take into consideration when applying for one.
Looking to get a business loan or a business line of credit? Get approval of up to S$300,000 with Capitall within 24 hours.