Personal Finance
Should You Provide Hire Purchase As An Option For Your Customers?
21 January 2021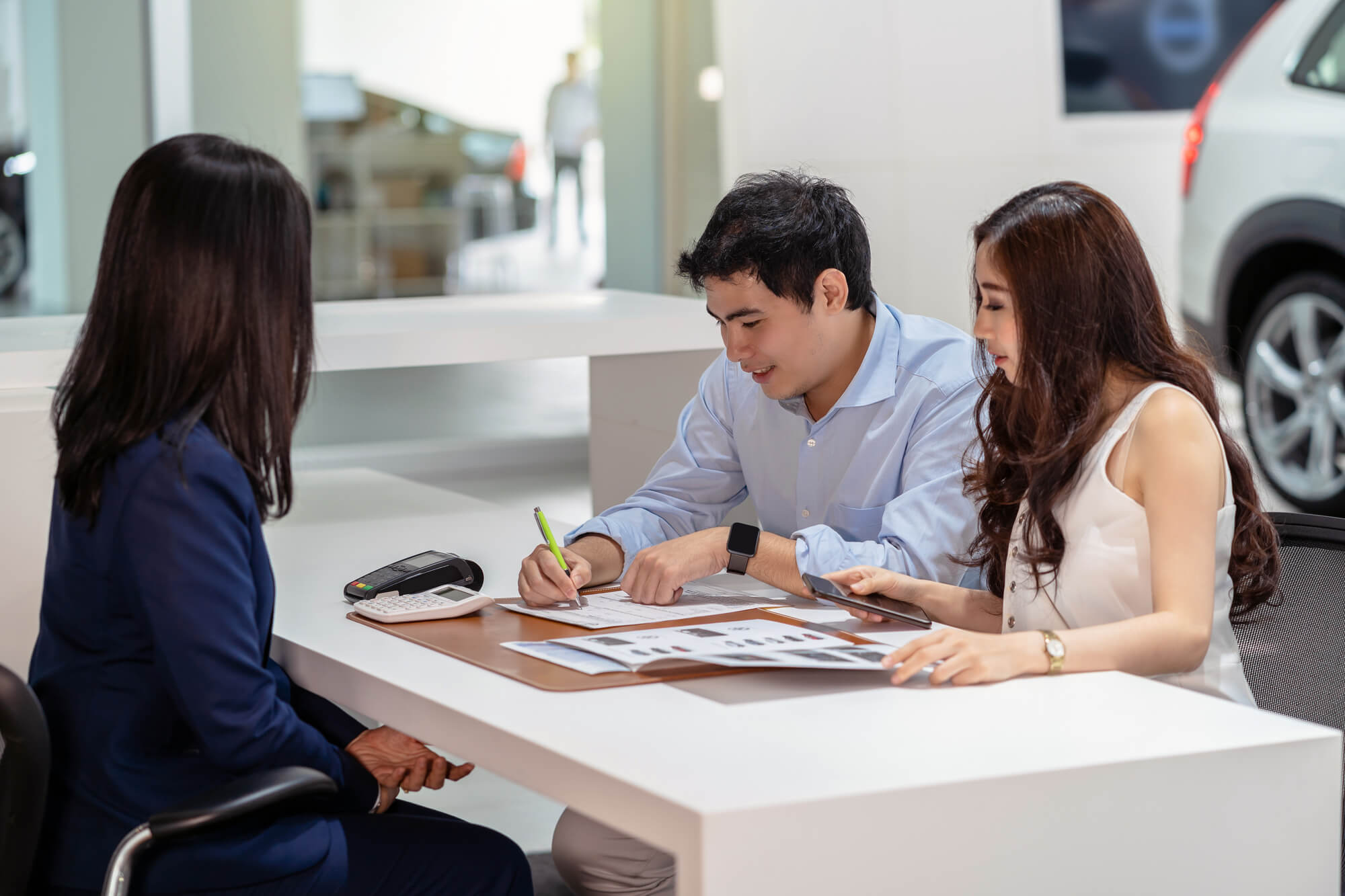 As a business owner, you may be thinking of ways to offer greater value to retain your customers and build customer loyalty. Whether you are a furniture retailer, car dealer, or are in the business of selling big-ticket goods, instalment payment plans, hire purchases, or other financing options may be what you need to keep your business running.
Hire purchase schemes are not only offered by financial institutions. Businesses that deal with large industrial equipment, home furnishing, or cars can also provide hire purchase as a payment option for their customers.
Offering hire purchase as a financing option could make the difference between making a sale right away, instead of leaving customers to "think about it" or work out their finances.
By offering hire purchase, customers will appreciate the flexibility of buying now and paying later. Customer retention may also improve.
In this article, we lay down the advantages and disadvantages of providing hire purchase as a financing option for your customers.
Hire Purchase Meaning: What Is Hire Purchase?
Hire purchase is an arrangement that lets customers buy your items and products without having to pay the full price upfront.
Hire purchase is also commonly known as instalment plan. After making a deposit or down payment, your customer will be able to pay off the value of the item in monthly instalments with interest.
While hire purchase and credit are types of arrangements that defer payments or spread them over time, your customer will not own the item under a hire purchase agreement until full payment is made. After all monthly instalments are paid, your customer will be the legal owner of the item.
Hire purchase agreements are widely used among those selling expensive assets and goods as it allows customers to buy now and pay later. Examples include furniture, home and kitchen appliances, computers and electronic goods, cars, industrial machinery, construction equipment, and manufacturing plants.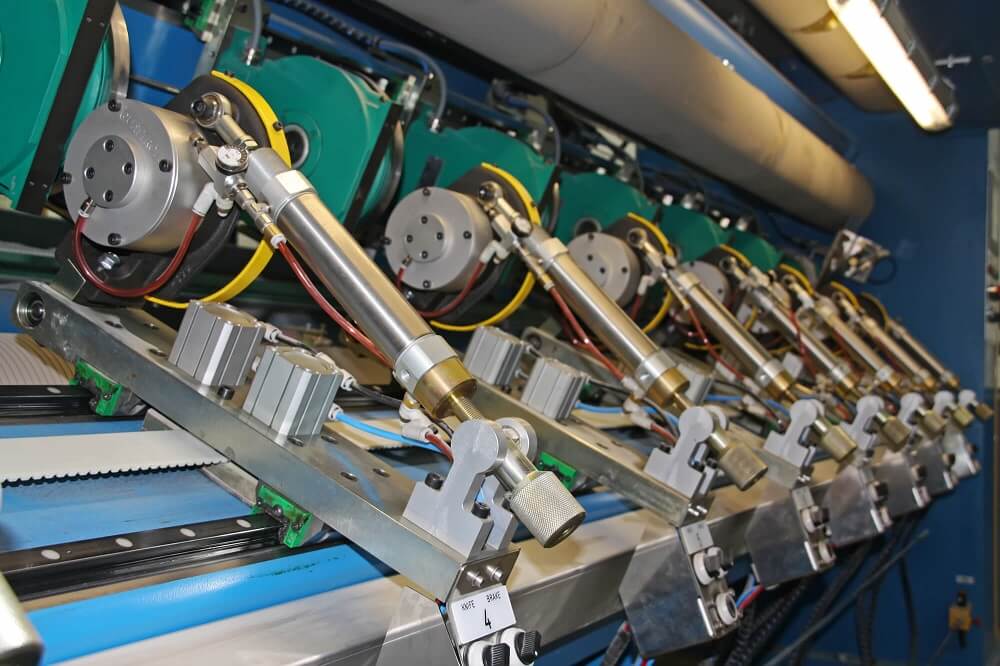 An alternative financing option is taking out a personal loan from a bank or a private financial institute. A personal loan would allow your customer to have enough funds to purchase the asset and be its legal owner immediately.
Read more about hire purchase here.
Pros And Cons Of Providing Hire Purchase At A Glance
Providing hire purchase schemes can be useful as customers can use your product immediately while paying off its value over an extended period.
| | |
| --- | --- |
| Advantages of providing hire purchase to customers | Disadvantages of providing hire purchase to customers |
| Easier to make a sale as customers can spread payments out over a period of time instead of paying a large sum upfront | Extra administrative costs incurred to keep track of the collection of monthly instalments |
| Enjoy higher profits by earning from interest | Repossessed goods may be damaged and may not be able to fetch reasonable prices during resale, resulting in a loss |
| Receive a steady inflow of cash monthly, which increases your chances of approval when taking a business loan | |
| You may repossess the item if your customer defaults on payment | |
Before providing hire purchase as an option for your customers, be sure to consider the pros and cons of offering such arrangements.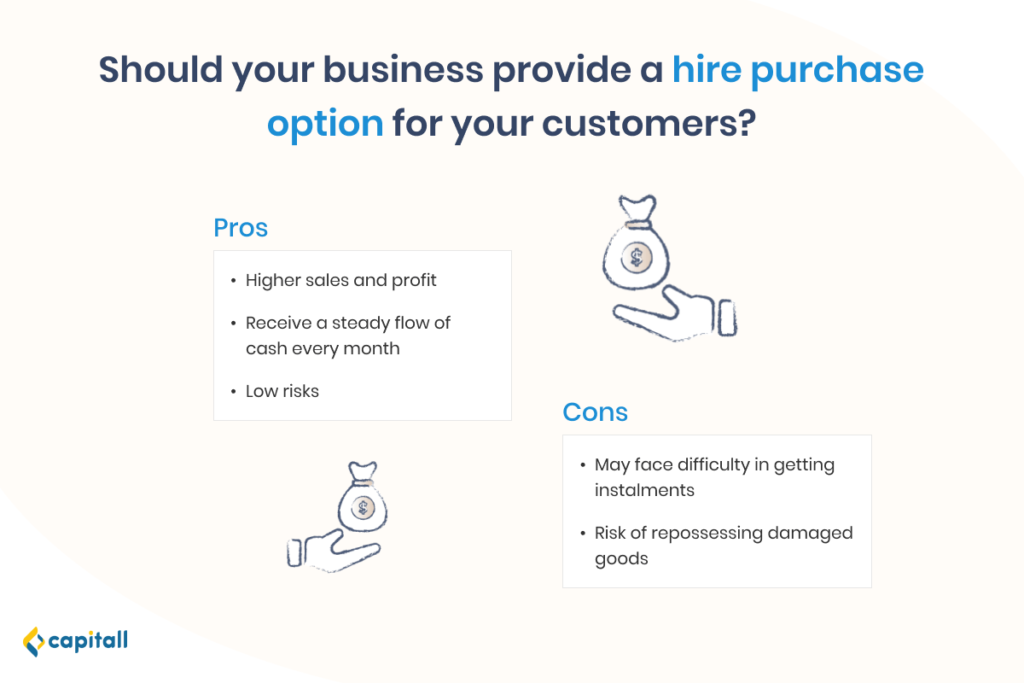 What Are The Advantages Of Hire Purchase For Businesses?
There are several advantages to offering hire purchase as a financing option for your customers, including:
1. Higher Sales And Profit
Since forking out thousands of dollars upfront may be a barrier for some customers, your business may be able to secure more sales if large sums are broken down into smaller payments.
By spreading out payments over time through a hire purchase agreement, it makes it easier for customers to buy from your business.
In fact, you may be able to enjoy a higher profit since you can earn from the interest charged.
2. Receive Steady Flow Of Cash Every Month
Even though instalment payments are spread out over time, your business will not have to wait to receive its income.
Each month, your business will be receiving a steady flow of cash repayments. These monthly payments can be used to pay off your operational costs.
This means that when applying for any business loans in Singapore, you will be able to prove that you have a steady inflow of income. This can also increase your chances of approval.
In fact, this is a win-win situation as your customers will also appreciate the flexibility of paying later.
For more tips on increasing your chances of approval when taking a business loan, read this article.
3. Low Risks
The hire purchase system is exceptionally advantageous, especially for customers with limited income or working capital.
As a seller, you will experience low risk as you will remain the item's legal owner until your customer completes payment. This means that the asset will be put up as collateral.
If your customer defaults on payment or misses a payment, you have the right to repossess the item and sell it again.
What Are The Disadvantages Of Hire Purchase For Businesses?
On the flip side, there are some disadvantages when offering hire purchase to your customers, such as:
1. May Face Difficulty In Getting Instalments
Although hire purchase arrangements may lower your customers' barrier to purchase, this may create artificial demand.
This means that buyers who do not necessarily have the means to afford the product may be tempted to make a purchase. As such, some buyers may not pay their instalments on time or even default on their payments.
To keep track of and recover these instalments, you may incur extra time and resources in recovering these debts.
You may even face serious conflict when engaging with your buyers, or bad publicity from suing defaulters.
2. Risk Of Repossessing Damaged Goods
Although you have the right to take back the goods from defaulting customers, there is a risk of damaged goods.
This is even if your hire purchase contract requires your customer to keep and maintain the product in good and serviceable condition, and repair or replace any missing or damaged parts.
Under such circumstances, you will not be able to sell these second-hand goods again to recover your investment. Even if they can be resold, they may not be able to fetch reasonable prices. Thus, your business may incur a loss.
Tips On Offering Hire Purchase As An Option For Your Customers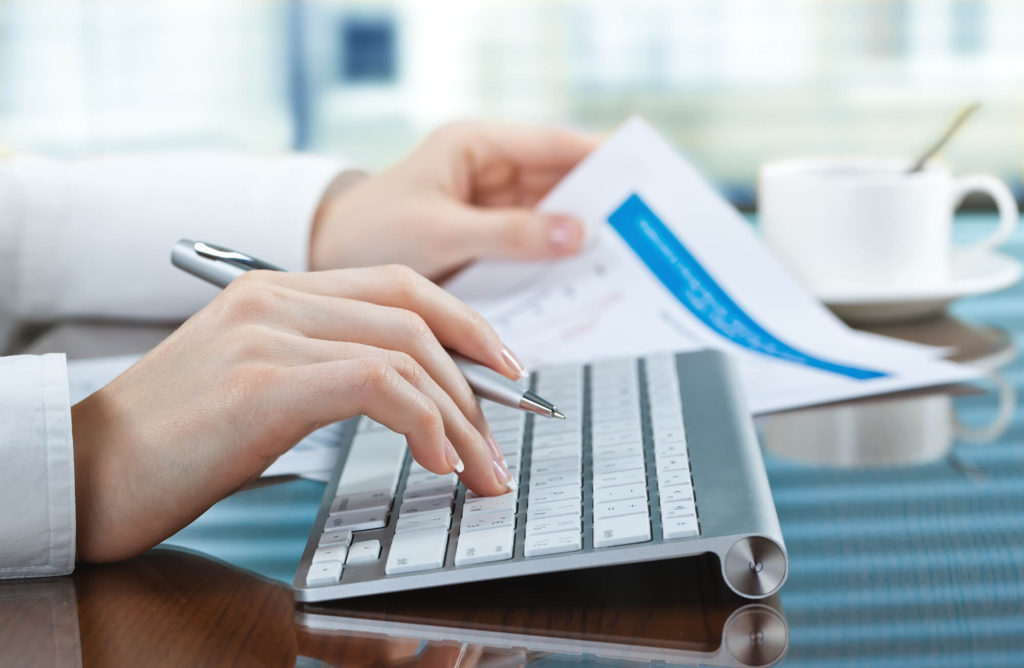 Hire purchase schemes are ideal for businesses that wish to provide a medium-term or long-term financing option for customers who may otherwise not be able to pay in full upfront.
If you are considering offering hire purchase schemes as a financing option for your customers, you may wish to exercise due diligence and proper care in evaluating your customers.
For instance, you may wish to extend hire purchase facilities to customers who meet predetermined criteria such as level of income, age, and ability to make payments regularly.
You can benefit from the various advantages of offering hire purchase. Not only does it increase customer retention and improve your cash flow, but you will also have a steady stream of payment.
This steady stream of payment will certainly help when applying for any business loans in the future. Banks and financial institutions do assess your business' financial performance when approving your loans, and it helps to have a consistent income stream to prove your business' stability.
Looking for business capital for your fleet of cars? Or looking for more financial advice for your business growth? Our financial experts at Capitall can help. Talk to us today.