Personal Finance
What Are The Benefits And Drawbacks Of Hire Purchase Agreements?
16 June 2023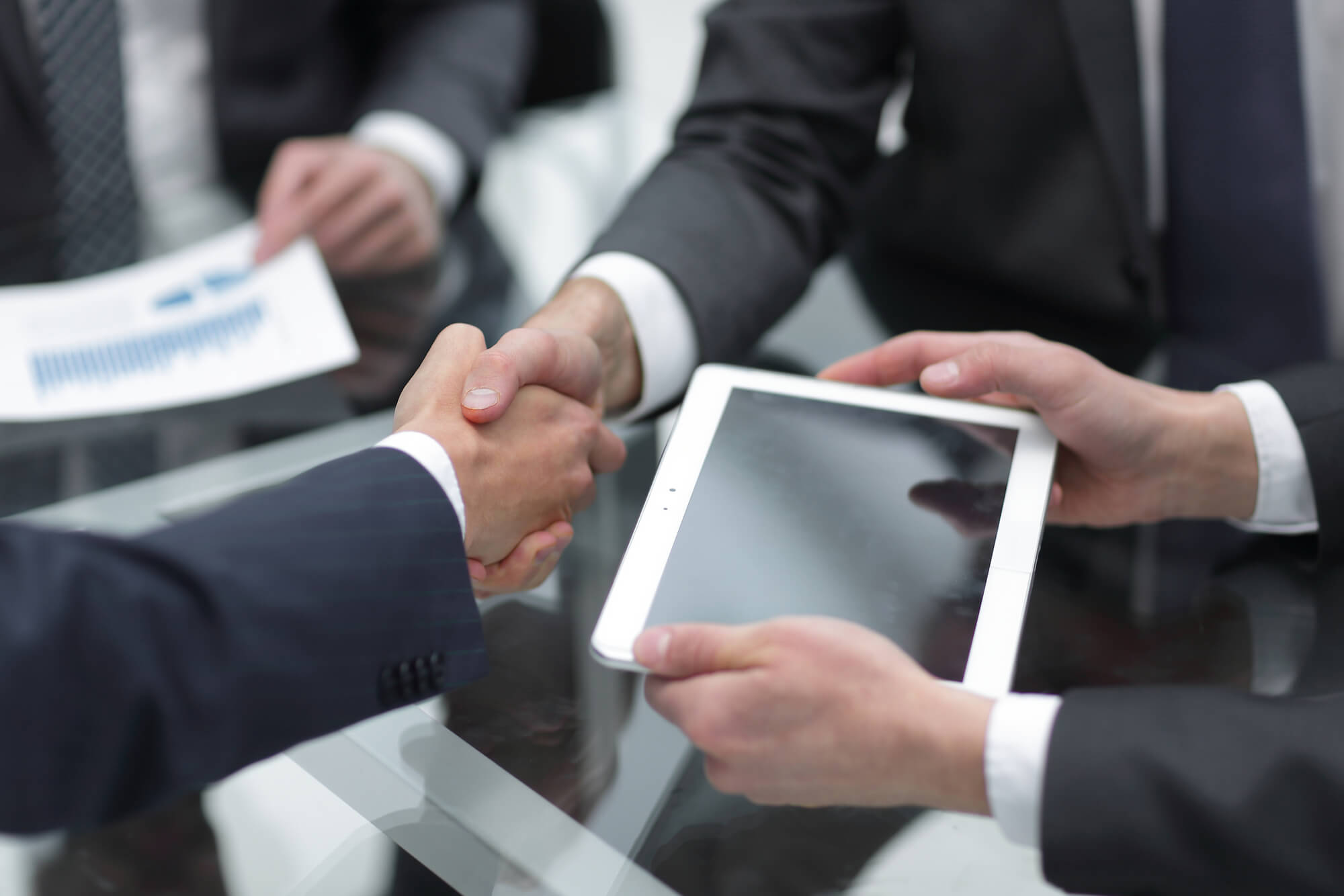 If you are thinking of buying an asset or expensive item and you do not have sufficient funds on hand, you may consider taking up a hire purchase arrangement.
Hire purchase agreements are a popular option for those who wish to purchase items that cost thousands of dollars, such as cars or heavy machinery.
In this article, we lay down the pros and cons of such arrangements to help you arrive at a decision.
Hire Purchase Meaning: What Is A Hire Purchase?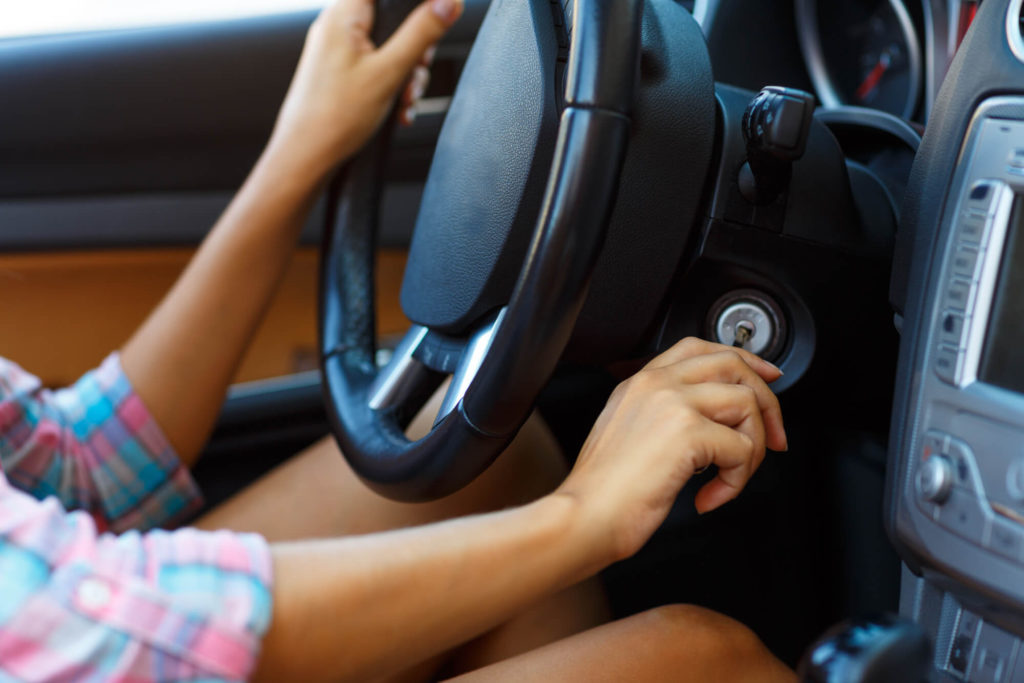 Hire purchase definition: Hire purchase is an arrangement for buying assets or big-ticket items, such as a car or machinery. The buyer would make an initial deposit or down payment and pay the balance and interest in monthly instalments.
This allows you to quickly get your hands on the item for immediate use while paying the remaining balance for it later.
The interest rate for hire purchase agreements is usually fixed for the term of agreement. However, the amount of payment you will need to make on a monthly basis will largely depend on the amount of deposit or down payment you put in, as well as the length of the hire purchase period.
In general, the smaller your deposit is and the shorter the term of the agreement, the higher the monthly instalments will be.
However, unlike normal purchases, ownership of the item belongs to the owner (e.g. financial institution) until full payment is made.
Find out more about hire purchase agreements here.
Pros And Cons Of Hire Purchase At A Glance
Hire purchase agreements are ideal for those who wish to spread the cost of expensive items over an extended period of time.
However, before entering into a hire purchase scheme, you should consider its pros and cons.
The pros and cons of hire purchase agreements are summarised as follows:
| | |
| --- | --- |
| Advantages of Hire Purchase | Disadvantages of Hire Purchase |
| Allows you to purchase and use an asset immediately even if you do not have the ability to pay for it outright | Asset remains collateral and will be taken from you if you default on monthly instalments |
| Can spread the cost of the asset over an agreed period of time, instead of making a large upfront investment | Not making timely repayments or defaulting on payment may affect credit rating, affecting future loan applications |
| Interest rate is fixed for monthly repayments, allowing you to budget accurately for your expenses | You are responsible for maintaining the asset although you are not its legal owner |
| You own the asset once your final instalment has been paid | You may be paying more for the asset due to the interest rate and loan terms |
| Good option in assisting with business cash flow instead of losing a large amount of capital | Penalty fees for late payments |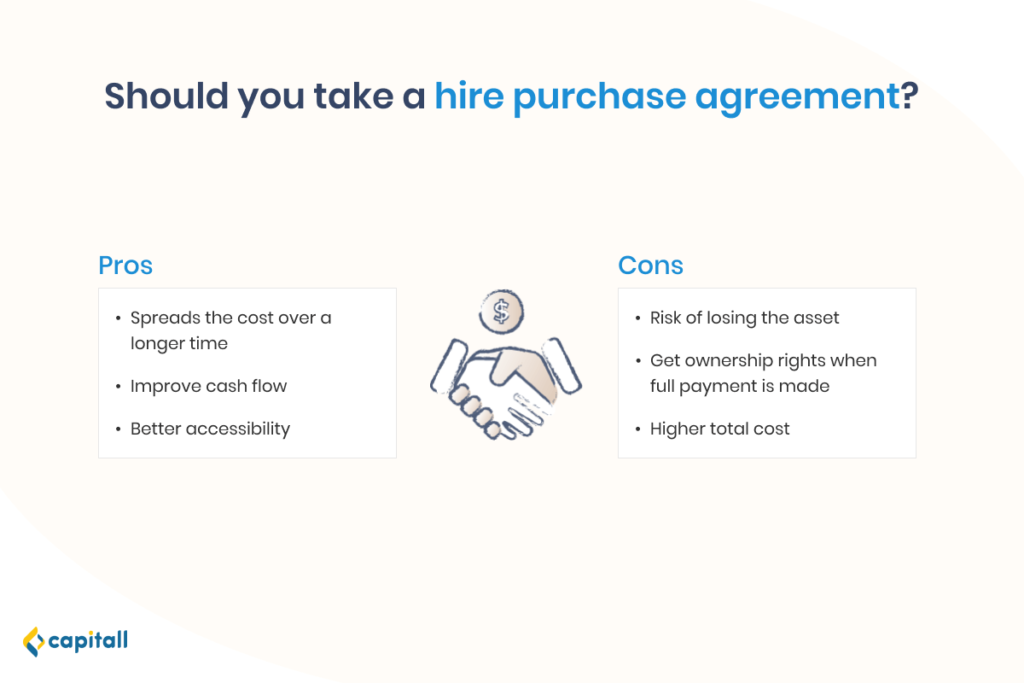 What Are The Benefits Of Taking A Hire Purchase Agreement?
There are several benefits when choosing to go with a hire purchase agreement, including:
1. Spread the cost of assets over a more extended period
Instead of paying the full amount upfront, businesses that require expensive machinery or car fleets for their operations can be immediately equipped with these assets. In the meantime, the remaining balance can be paid in monthly instalments.
This is especially useful in ramping up efficiency and productivity as businesses can tap on newer and more expensive equipment, such as faster machinery.
If you are looking at a car loan or car financing options to purchase a car, a hire purchase agreement may be ideal.
Instead of waiting until you have saved enough, you will be able to use the car immediately while paying for it over 5 to 7 years.
Read more about Capitall's hire purchase auto loans here.
2. Improve Cash Flow
Hire purchase agreements help you finance your purchases without having to drain your working capital.
This is vital, especially for smaller businesses and start-ups that are beginning with a smaller capital. Instead of losing a large amount of capital, businesses can assist with their cash flow through hire purchase agreements.
In fact, hire purchase agreements allow for better budget management. As the interest rate on your hire purchase is usually fixed for the duration of the agreement, your purchase will fit in with your monthly budget.
Fixed monthly payments will make budgeting easier and help your business set aside money for other urgent expenses.
3. Better Accessibility
Hire purchase is a simpler way of financing and is relatively easier to obtain than taking on a business loan in Singapore.
There is a higher chance of approval for hire purchase agreements compared to unsecured business loans because there is collateral tied to it, and poses less risk for the lender.
Moreover, compared to business loans, applying for a hire purchase agreement does not come with a focus on your credit score.
Find out what are the 9 things to ask before getting a business loan in Singapore.
What Are The Drawbacks Of Taking A Hire Purchase Agreement?
On the flip side, there are some disadvantages to hire purchase agreements, such as:
1. Risk Of Losing The Asset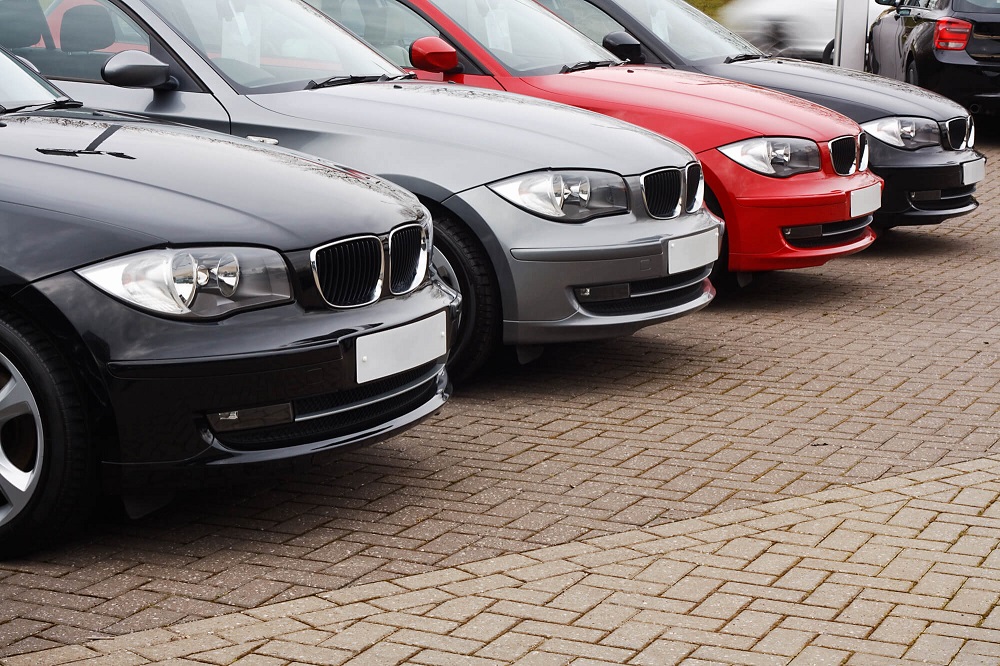 Since you do not own the asset until you have made your final payment, this means that the asset remains as collateral.
If you default on payment or are unable to pay off the monthly instalments, your lender may repossess the asset. Besides losing the asset, this may hurt your credit rating and affect any future loan applications.
2. Buyer Does Not Have Ownership Rights
One of the most significant drawbacks of taking a hire purchase agreement is that you will not own the asset until payment is fully made.
Since the asset does not belong to you, you will not be able to sell or lease it to others during the period of hire purchase.
At the same time, you are also responsible for maintaining and fixing the car, machinery or equipment if anything goes wrong.
If it is stolen or destroyed before it is fully paid for, you may need to fork out a replacement fee, depending on the terms of your hire purchase agreement.
3. Total Cost Is Higher In The Long Term
Through a hire purchase agreement, you may be paying more for the asset as you are paying interest in addition to the cost of the asset.
If you can afford to clear off payments within a shorter time frame, or better yet pay the full amount upfront, a hire purchase arrangement is not recommended since you would rake up interest costs.

To calculate the real cost of a hire purchase agreement, compare the total hire purchase price and the cash price. In the following example, we look at the comparison for financing a car with both of the plans.
Let's say a lender offers you a hire purchase agreement for a car priced at S$50,000. At 5.98% interest rate and 5-year loan term, you'll need to make a monthly instalment of S$1,082.50.
| | |
| --- | --- |
| | Hire Purchase Agreement |
| Monthly instalment | S$1,082.50 |
| Interest rate | 5.98% |
| Term | 5 years |
| Total cost | S$64,950 |
On the other hand, purchasing the car upfront in cash, you'll pay for the full S$50,000. That's a difference of S$14,950. Moreover, besides the cost of hire purchase, the terms and conditions of hire purchase agreements must also be considered before you sign up for them.
Are you looking for more advice on taking on a hire purchase scheme? Our financial advisors at Capitall can help you with your car financing. Talk to us today for the best hire purchase package tailored to your needs.