Business Loan
Small Business Opportunities In Singapore: 9 Helpful Tips For Starting One
29 October 2020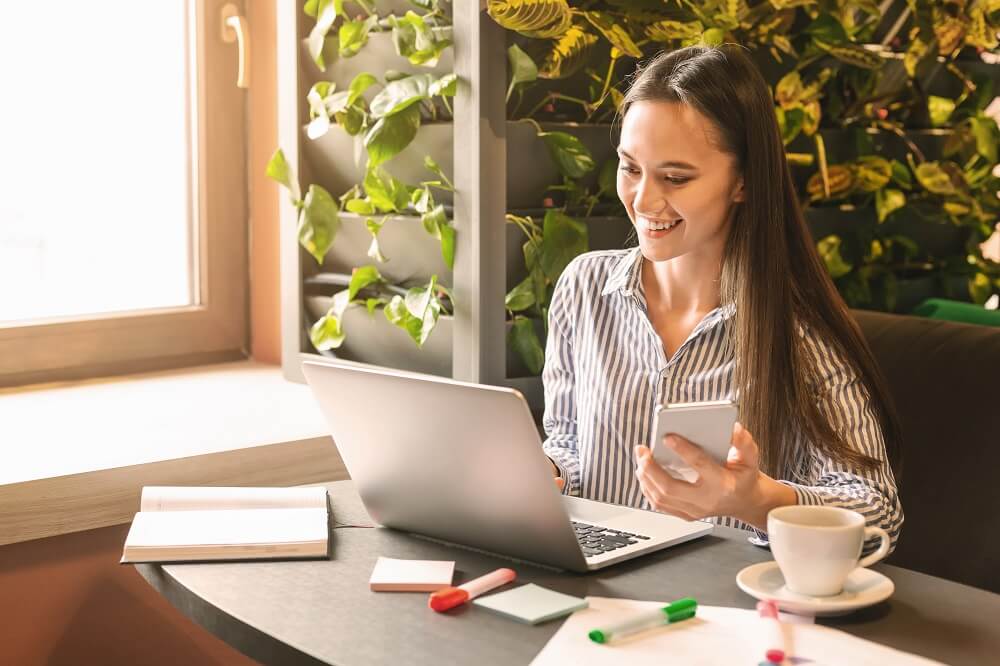 Always dreamed of being the boss of your own business? Before exploring the different small business opportunities in Singapore and taking on the risks of starting one, overcome foreseeable challenges by planning and preparing ahead.
Here are 9 tips that you should consider before getting your small business off the ground in Singapore.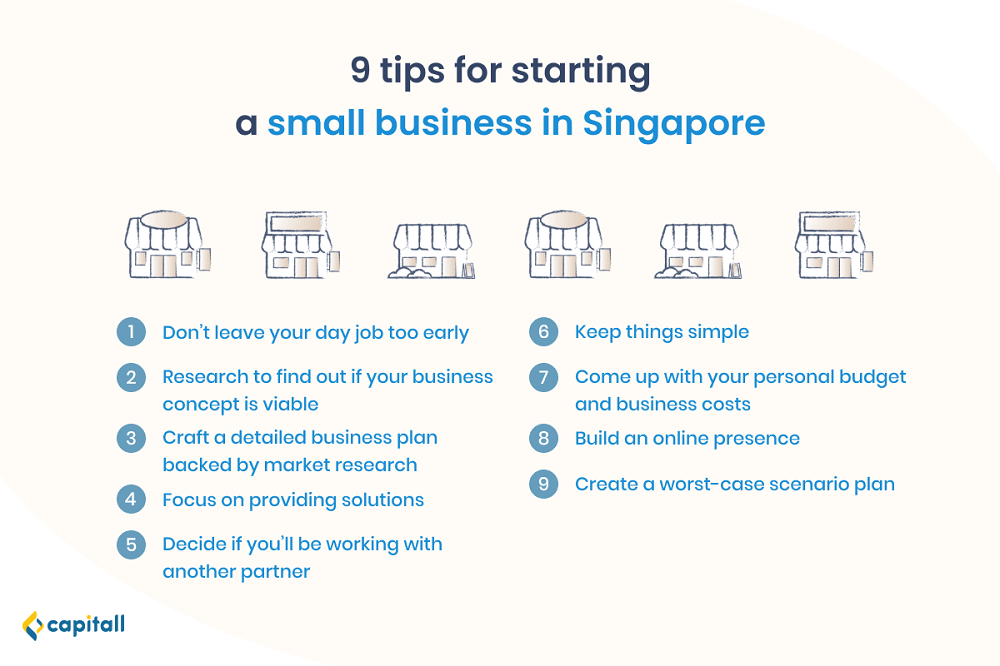 1. Don't Leave Your Day Job Too Early
Go ahead and plan for your business, but don't quit your day job just yet. By maintaining a safety net of income and stability as long as possible, you will be able to accumulate a larger pool of savings to fall back on should things not go according to plan. Even if your side business fails, you would have gained valuable career-enhancing skills.
In fact, building up your savings as much as possible is a good idea for future business headwinds. More importantly, you will have more time to validate your business idea, and spend more time researching and figuring out if your business will be viable.
2. Conduct Research To Find Out If Your Business Concept Is Viable
Look beyond your ideals to assess the viability of your business idea. Entrepreneurs often get so excited about small business opportunities in Singapore that they forget to find out if their ideas are viable.
Short of commissioning a full market research, find out what the competition is like. Will your idea provide a solution that caters to an unmet need? How will you differentiate your products or services from those in the market?
Rather than ploughing ahead with execution, take time to thoroughly plan and research to determine the potential of your idea.
Minimally, your research should cover the following:
How big is your target market?
What are the types and quality of services provided by competitors in your target market?
What are the channels of communication used by your competitors?
What gives your company an edge over the competition? In what areas would your company be at a disadvantage?
Is there a paying customer? What are their buying habits or purchasing decisions? How much do they earn and how often will they buy your products or services?
What would be a fair price for your products or services?
Starting your business in Singapore soon? Find out what else you will need to do to get it off the ground.
3. Create A Detailed Business Plan Backed By Market Research
You do not have to write an elaborate business plan spanning hundreds of pages. However, your business plan should minimally analyse the demand for your product or service, lay down the amount of resources required to launch your business, and identify what differentiates you from your competitors.
Here is a simple outline for a business plan:
Section
Questions
Business opportunity
What is the problem that your business aims to solve?
What do your customers need?
Market analysis
What are the critical success factors for your business?
Who are your main competitors and what differentiates your business?
Target market
Who will your customers be?
Where do they live, what do they do for a living, and what are their likes and dislikes?
Company information
What are your company's mission statement and core strengths?
Who are in your company's main leadership team?
Implementation Timeline
What are the key milestones over the next 6 months?
How will you measure progress and success?
If you have the answers to all of these questions, you should be ready to move on to the next step.
4. Focus On Providing Solutions
Besides seizing small business opportunities in Singapore, the most successful local start-ups put their customers first.
As much as you want to focus on your business operations and the products and services you are offering, you should also focus on delivering solutions for people's problems.
Engage your customers, listen well, and take what your customers need and say to heart. Ultimately, it is their feedback, interest, and needs that will be driving your sales.
Make decisions based on how much value you will be giving your customers and get familiar with the problems your prospective customers will face.
5. Decide If You Will Be Working With Another Partner
The strongest businesses achieve growth by creating strategic partnerships. By partnering with another firm, you will benefit from their skill sets and perspectives.
However, working in a partnership has its drawbacks. It can potentially slow the decision-making process, cause disagreements, or lead you to have a smaller share of your business.
Nonetheless, partnerships are a good way to pool resources and create win-win scenarios for all parties involved.
For instance, if you offer graphic design services, consider entering into a strategic partnership with a web developer to build the graphics on the website, or a print shop to have them printed.
6. Keep Things Simple
Start your business by keeping your product and service offerings narrow and focused. Instead of offering various products and services to tap on various small business opportunities in Singapore, focus on being the best at one thing first.
Offering focused packages helps you to deliver services that you do well in, helping you build your own niche customer base.
A more narrow service or product offering also eliminates unnecessary features in the early phase of your business, which can drive up costs. Begin with a minimal portfolio that you are happy to do while making a sustainable income and build up from there.
7. Prepare Your Personal Budget And Business Costs
Every business needs a budget. It is a key way of helping you turn your dreams into reality while ensuring you still have enough funds to keep your business afloat.
Figuring out how much money you have, how much you need to spend, and the amount of business loans you may need in Singapore takes much discipline.
Factor in every business expense in your budget, including launching and operating costs, as well as a buffer.
If you are a solopreneur, do not forget to take stock of your minimum personal expenses such as food, mortgage payments, and transport. Update a rolling 12-month budget with actual expenditures and revenues each month so that you know if you are within your means.
Thinking of taking out a business loan? Find out what are your options here.
8. Build An Online Presence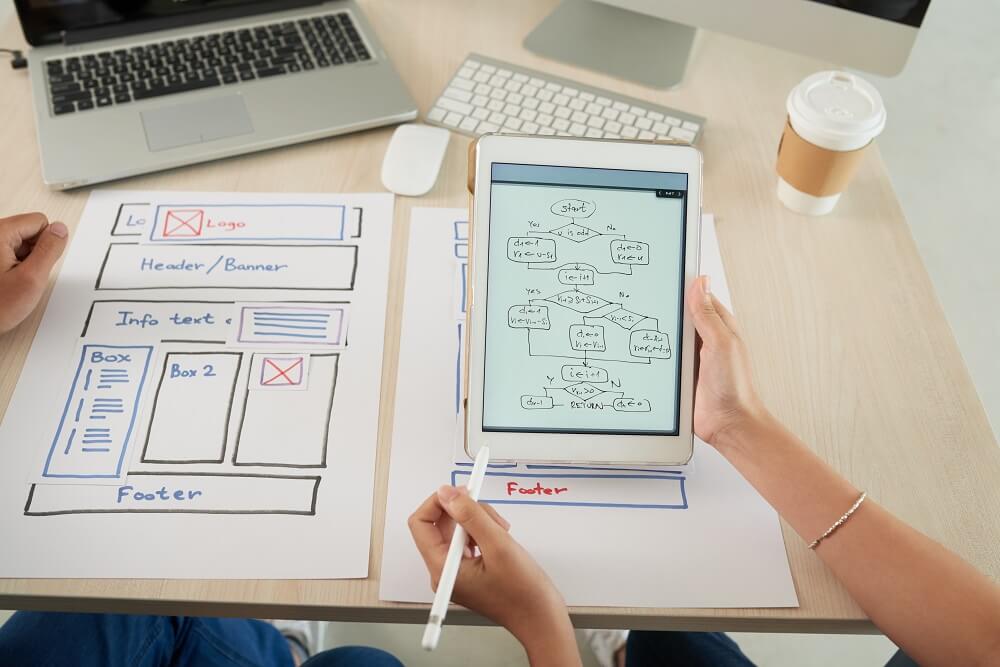 Your business may provide the best product or service in the market, but do people know it exists? Instead of relying on traditional marketing means, start right with a website and social media profiles.
A digital presence is not enough; you need to be active too! People are unlikely to follow a profile that has not been updated since 2017. Invest the necessary time and effort to build a digital presence.
9. Plan For The Worst-Case Scenario
Don't wait for your shipment to be delayed, or for your customer database to be breached. Most business owners are so caught up with their daily operations that they forget to think about and plan for emergencies.
Owning a business is risky, and there is always a chance you might not earn enough revenue, or suffer heavy losses.
Identify potential problem areas, make sure your insurance policy is up-to-date, and build a cash savings fund to cover short-term expenses for a few months. This will help you be mentally prepared and help you cope should rough times hit.
Get Your Business Off The Ground
Business owners have their own unique ways of financing their businesses, be it invoice financing, taking up business loans, or sourcing capital from family and friends.
Unlike traditional lending institutions, Capitall does not require your business to have a tenure of at least 2 years. You can get a business loan with Capitall as long as your business is at least 10 months old.
Ready to tap on small business opportunities in Singapore? Apply for a business loan now with Capitall.