Business Loan
How Credit Rating Affects Your Business Loan In Singapore
28 August 2020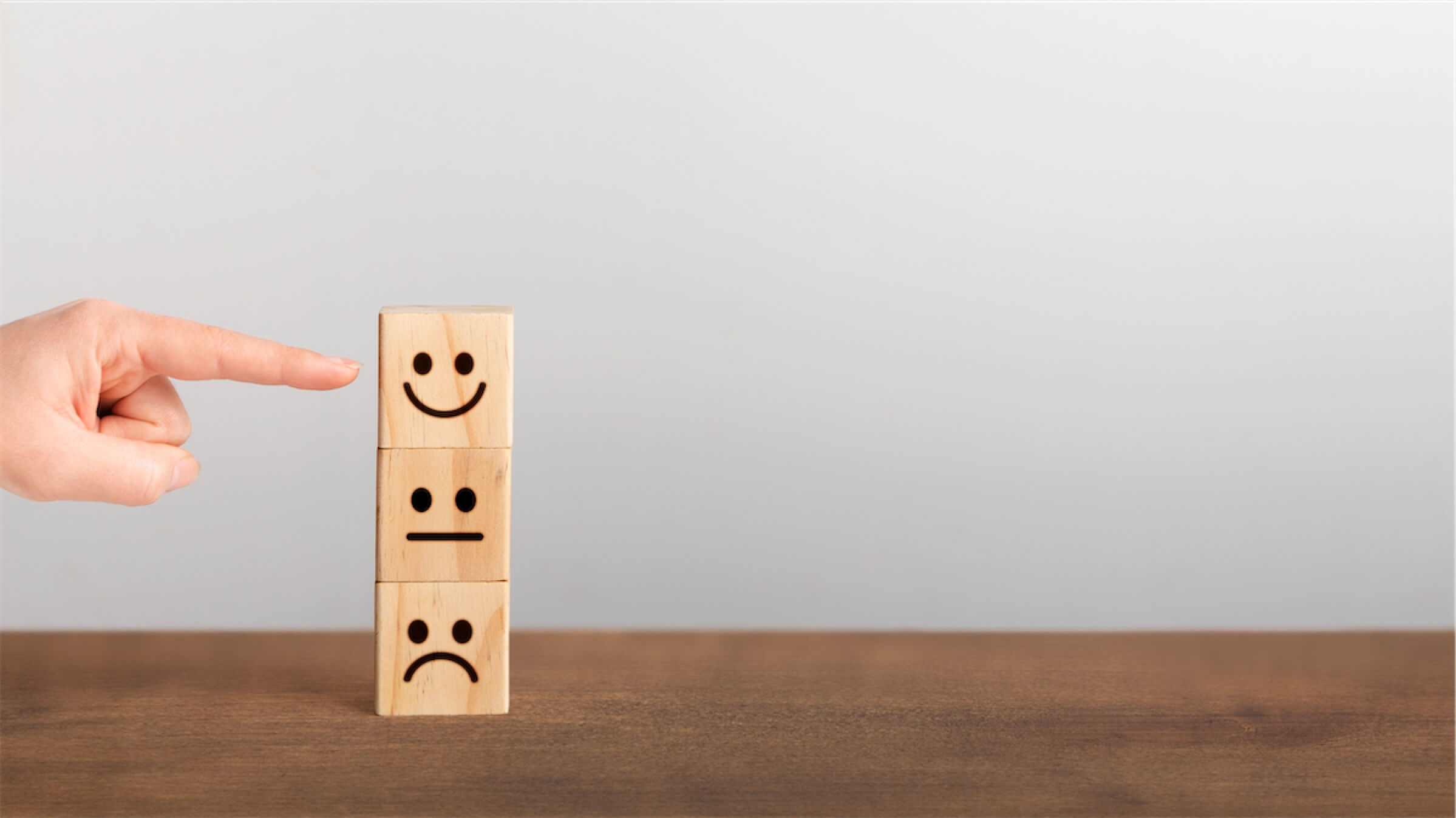 If your business is in need of funds and you're seriously considering taking a loan, you will need to know the importance of credit ratings.
No matter what sort of business you run — a large global business or a local SME, credit ratings play a significant role in helping you secure loans. In fact, they are key in helping you to get loans at the right time and to get them approved quickly.
So how do credit ratings work? And what do you need to pay attention to? In this article, we'll go through the nuts and bolts of credit ratings and how it affects your business loans.
What Are The Credit Rating Agencies In Singapore?
In Singapore, there are 2 main credit rating agencies: Experian Credit Services Singapore (formerly DP Credit Bureau) and the Credit Bureau of Singapore (CBS).
The former offers a corporate risk credit assessments solution designed for the corporate credit community. To put it simply, a system that analyses companies' credit ratings based on analytics and over time, captures changing credit and business situations.
CBS, on the other hand, records your debt and repayment history. The record is used to assess the creditworthiness of your business. Here's a table to see how they differ.
| | |
| --- | --- |
| Credit Bureau Singapore | Experian Credit Services Singapore |
| Established in 2002 | Established as DP Group in 1978, as a Singapore credit and business information bureau. Operates as Experian in 2008 |
| Credit system that is a financial risk management tool for banks | Credit system gathers, analyses, and processes data to help lenders lend more responsibly. |
What Is Credit Score And What Is A Credit Report?
Credit score and credit reports serve different purposes.
Credit Score
In Singapore, your credit score is presented as a grade, and you can obtain your credit score from the Credit Bureau of Singapore. Typically, your credit score is used by financial institutions to determine the risk they are taking when they give you a loan. Your credit score gives lenders an idea of your propensity to repay debt.
Poor credit scores signal to lenders that you have a high chance of late payment or default. As such, poor credit scores can cause your loan application to be rejected.
Here's a table on how the CBS calculates your personal credit score and risk grade.
| | | | |
| --- | --- | --- | --- |
| Score Range | Risk Grade | Probability of Default | Probability of Default |
| | | Min | Max |
| 1911 – 2000 | AA | 0.00% | 0.27% |
| 1844 – 1910 | BB | 0.27% | 0.67% |
| 1825 – 1843 | CC | 0.67% | 0.88% |
| 1813 – 1824 | DD | 0.88% | 1.03% |
| 1782 – 1812 | EE | 1.03% | 1.58% |
| 1755 – 1781 | FF | 1.58% | 2.28% |
| 1724 – 1754 | GG | 2.28% | 3.46% |
| 1000 – 1723 | HH | 3.46% | 100.00% |
Source: Credit Bureau Singapore
Banks usually scrutinise your application based on your credit score, whereas private financial institutions such as Capitall look at your personal income, business revenue and outstanding loans. It is easier and quicker to get a business loan from private financiers as they focus less on your credit score.
Credit Report
On the other hand, a credit report is a complete record of your credit history and serves as a reference for your debts and repayments. It shows how much you have borrowed, how long you take to make repayments, the intervals, and if you have outstanding loans.
While it is not a grading system like credit scores, it is a comprehensive record of your business' history in borrowing funds from financial institutions.
Banks and private financial institutions look at your credit report as an indication of how well you can pay back your loans, and if they have the confidence to lend to your business.
How Does This Affect My Business Loan?
Knowing your credit score is vital because it directly impacts your borrowing capability and access to funding. From a lender's perspective, it is ideal to lend funds to a prospect who has a track record of repaying debts.

Hence, as a business owner, it is important to have a strong personal credit score for your business to qualify for business loans easily.
Though lenders might find it difficult to justify your loan if you have a poor or unestablished credit score, it is not the only aspect they look at. Financial institutions also need to be able to see strengths in your finances, business, and repayment capabilities to justify a loan.
That said, private financial institutions like Capitall make themselves more accessible to those with lower credit scores. Depending on their lending policies, you may not need to have a fantastic credit score to borrow from them.
Why Does It Matter?
If it's not the only aspect lenders look at, why do you have to pay so much attention to it?
Think of it this way. Banks and financial institutes get lots of loan applications regularly, and they can't simply lend a loan to anyone who applies for it.
Instead, they need to be strategic and sieve out those who seem to be better prospects. Businesses that have ongoing projects, a good income, and a strong track record will stand to get their loans approved quickly.
It doesn't make sense for any lender to give out a loan to a business with a poor history of repaying their debt on time.
If your business is currently taking a loan and has yet to finish repaying it, it would also cause questions to arise.
How To Increase Your Credit Score Rating for A Successful Business Loan Application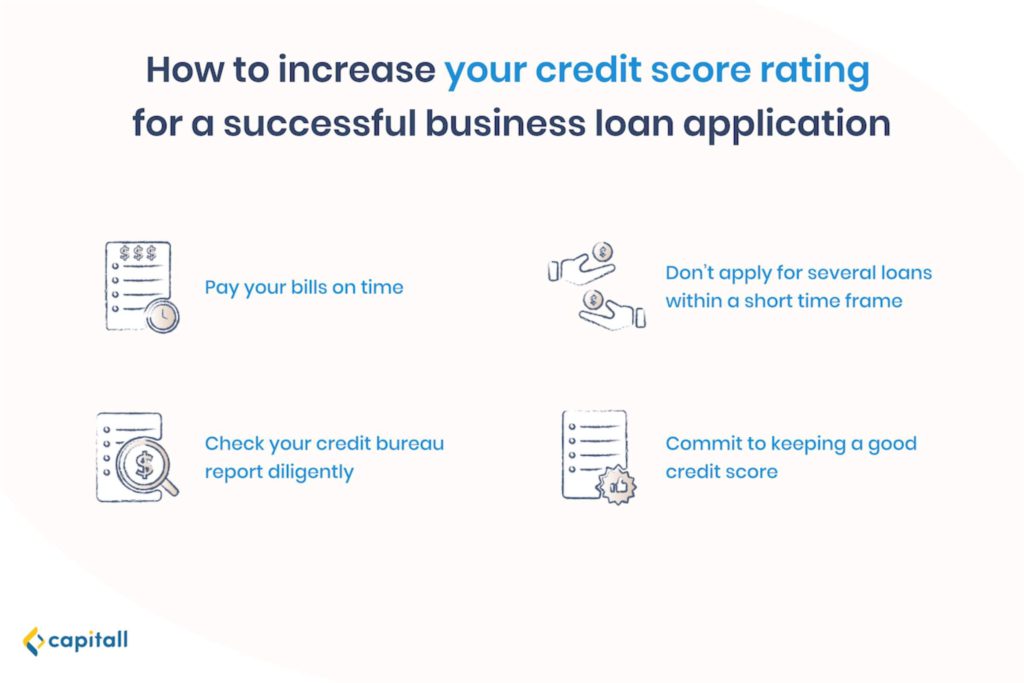 There are many aspects lenders consider when considering a loan application. However, your credit score rating is one of the most important deciding factors. So, how can you improve your credit rating? Here are 4 ways to do so.
1. Pay Your Bills On Time
Paying your bills on time and repaying any existing debt is crucial. You want to give lenders and banks confidence in your ability to repay loans. Showing that your business is capable of maintaining a healthy financial status will allow your application to get through more quickly.
2. Check Your Credit Bureau Report Diligently
Before applying for your loan, you should also make sure that your credit score ratings are accurate. Ensure that your credit bureau report has no discrepancies. If there are any discrepancies or inconsistencies, make sure you report it as soon as you can. You don't want an inaccurate credit report to affect your loan application.
3. Don't Apply For Several Loans Within A Short Time Frame
Additionally, it's wise to finish repaying your loan before applying for another. Applying for multiple loans at once causes lenders and banks to question your business' financial stability.
It could also give the impression that you are unable to steward your resources wisely. As such, it is risky to give out a loan to an applicant who is already on another loan. To prevent your loan application from being rejected, make sure you repay all existing loans first.
4. Commit To Keeping A Good Credit Score
As a business owner, you need to commit to keeping a good credit score. There are many aspects to running a successful business, and oftentimes, it's easy to forget to pay attention to your credit score ratings. Nonetheless, credit scores are an essential part of your business and directly influence your ability to get loans.
Besides these, there are many other ways you can increase your business loan approval chances. Read about them here.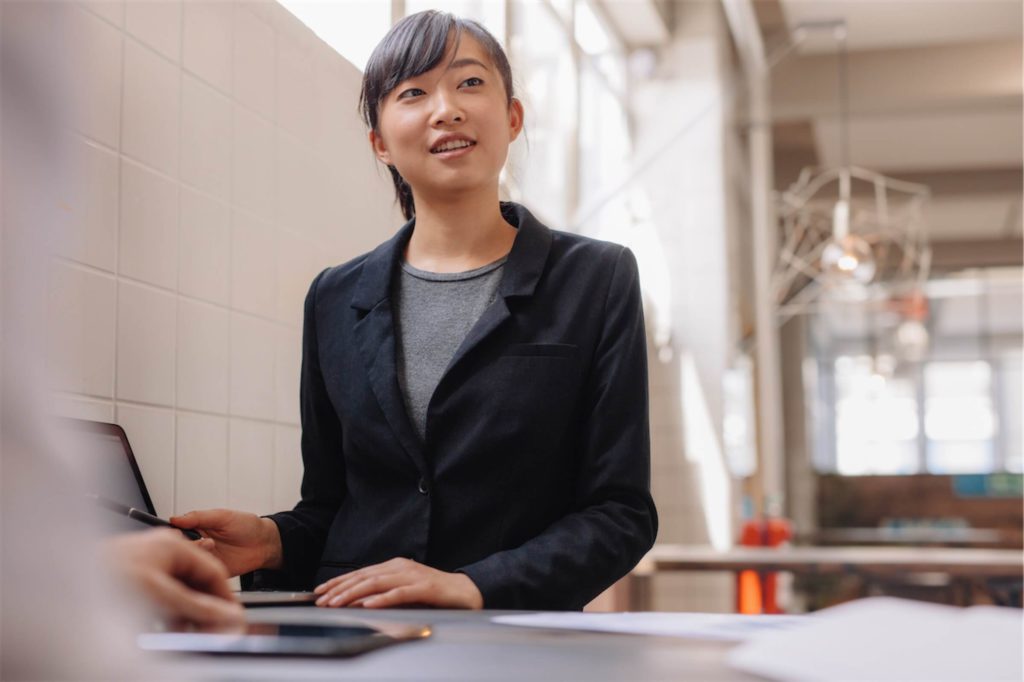 Whether it's due to off-season cycles or plans for expansion, getting a loan when you most need it is crucial for every business.
If you're still unsure of your credit score ratings and your credit report, speak to a professional for help. Every business is different with its own set of challenges and goals. Reach out to Capitall to secure your business loans today.