Business Loan
Business Loan Vs Hire Purchase: Which Is More Suitable For Your Business Fleet?
24 September 2023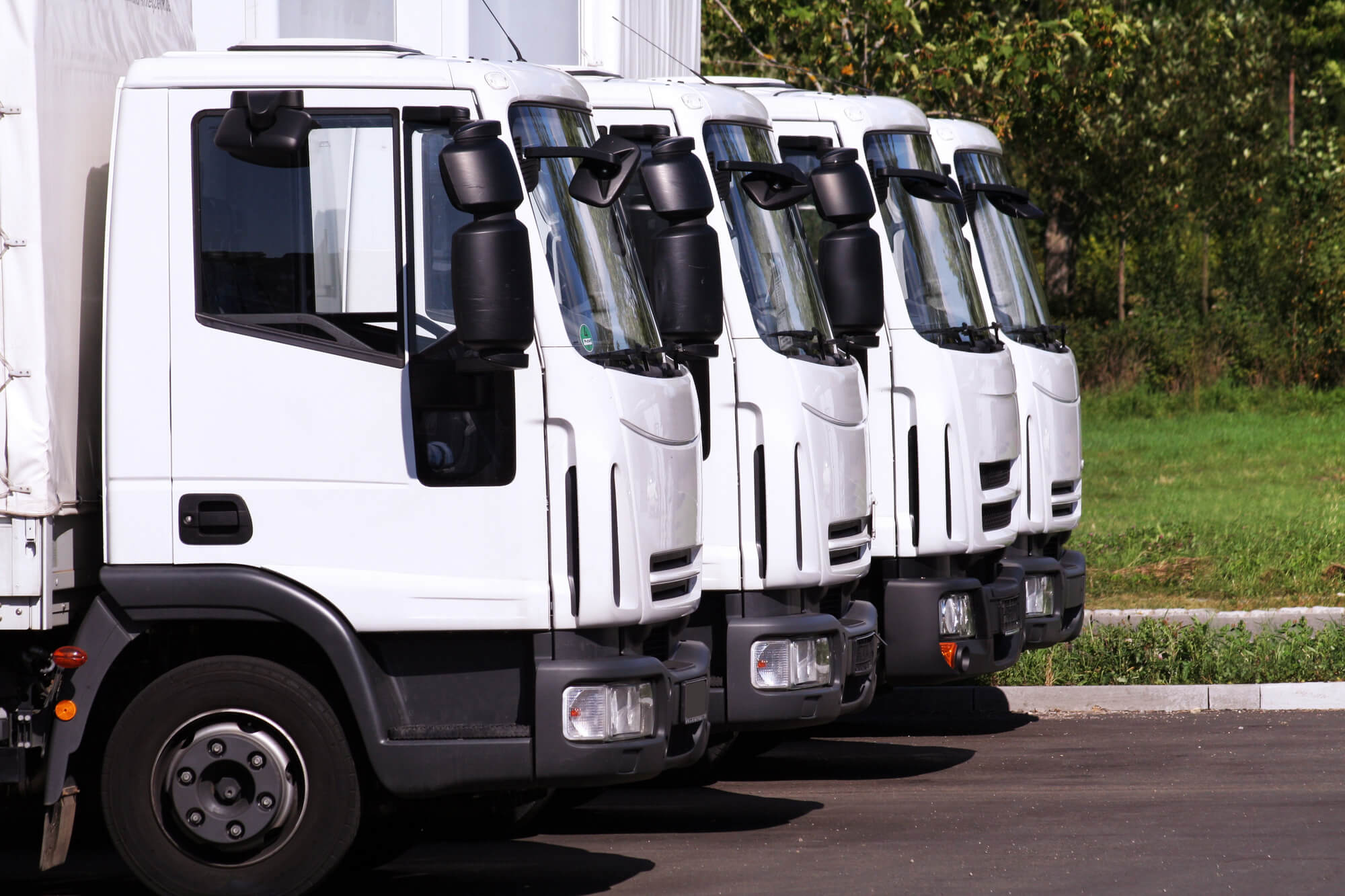 In recent years, hire purchase has been a popular method for businesses to purchase expensive goods and assets.
Hire purchase provides businesses with another financing option to finance their fleet of cars and motorcycles needed for business operations. However, like all financing options, it comes with its advantages and disadvantages.
In this article, we compare the 2 main options available to fund your business fleet: business loan and hire purchase.
Business Loans Explained
Business loans in Singapore are versatile in their use because you can use them for a wide range of purposes, including purchasing a fleet of cars and motorcycles for your business. They generally do not restrict you on what you can use them for.
Besides choosing between banks and private financial institutions for funding, you can opt for either a secured or unsecured loan. The advantage with an unsecured loan is that your lender will not repossess the vehicles if you default on your loan. However, it comes with a higher risk for the lender, which may translate into higher interest rates.
Another advantage of using a business loan to fund your business fleet is that your business owns the vehicle from the moment you make the purchase.
Looking for more options to fund other aspects of your business? Here are other business loan options to know.
Hire Purchase Explained
Essentially, hire purchase allows you to spread the cost of expensive purchases. It is similar to a business loan in that you work within a repayment schedule to pay your instalments and interest. Plus, the interest rate is fixed.
With that said, there are a few differences between hire purchase and business loan.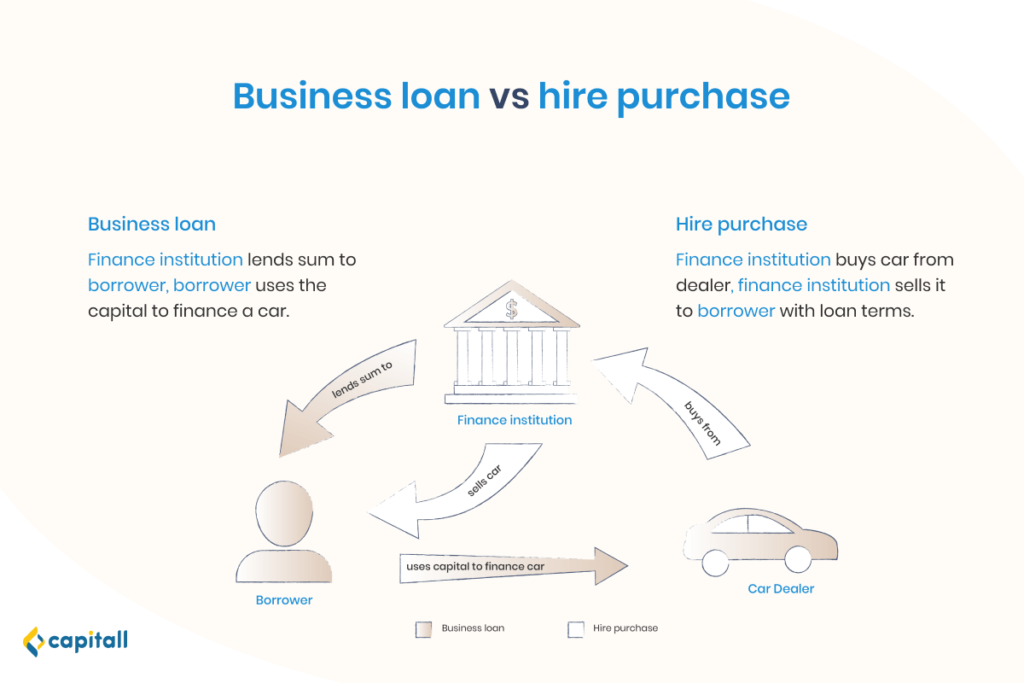 Ownership
By funding your business fleet through hire purchase, your business will not own them until you make a full payment. This could take several years, depending on the value of the asset. It is also one disadvantage that hire purchase agreements have.
On the other hand, your business has the legal ownership of the fleet when you purchase them with a business loan.
Tenure
Another difference between hire purchase and business loan is that hire purchase agreements tend to have a slightly longer tenure.
While business loans usually have a tenure of up to 5 years, hire purchase agreements typically last up to 7 years. Although this means that you will pay a more significant amount by the end of your term, hire purchase affords you more flexibility in your repayment schedule.
Use
With hire purchase, your business will be able to better afford to upgrade to newer vehicles. Doing so can improve the efficiency of your business operations immensely.
However, one limitation of hire purchase agreements is that they can only be used for purchasing vehicles or heavy machinery. In contrast, business loans have a wider range of use such as daily operating expenses and payroll.
How To Choose The Right Loan Product
Now that you are familiar with the business loan and hire purchase meanings, let's analyse the main factors that can influence your choice.
The Purpose Of Your Vehicle Purchase
Consider what you will be using the fleet of cars and motorcycles for. Will you be purchasing vans or trucks to transport bulky goods? Will they enable your business to increase its production and output?
Based on how you will be using the vehicles, be sure to calculate the operating costs as well. Compare the monthly instalments and total costs to be paid with these 2 options.
Do note that given the longer tenure of hire purchases, they tend to have a higher interest and total cost than business loans.
The Condition Of The Vehicles: Are They Used Or New?
Consider the answer to this question in terms of your business operating needs and what the vehicles are used for.
Since used vehicles are cheaper, some businesses may choose to purchase them over new ones to save money.
For instance, if you need vehicles to transport your employees for short distances, used cars should suffice. Conversely, if you need to transport heavy equipment on long trips, a better option would be to purchase new vans and trucks.
However, business loans and private hire purchases in Singapore pose different advantages and disadvantages.
Since used vehicles are less expensive, it is generally better to get them with business loans. Plus, they are a good deal to have if they are still in tip-top condition.
On the other hand, used vehicles represent a higher risk to the lender. This means that when they are bought through hire purchase, the lender may choose to increase the interest rate to mitigate the risk.
Before choosing between used and new vehicles, be sure to take into account their resale value as well.
Reselling a used car at the end of your loan tenure may be difficult and give you a low price. On the other hand, new cars do not depreciate as quickly, allowing you to get a good deal when you resell them.
Do You Want To Have A Legal Ownership Of The Vehicles?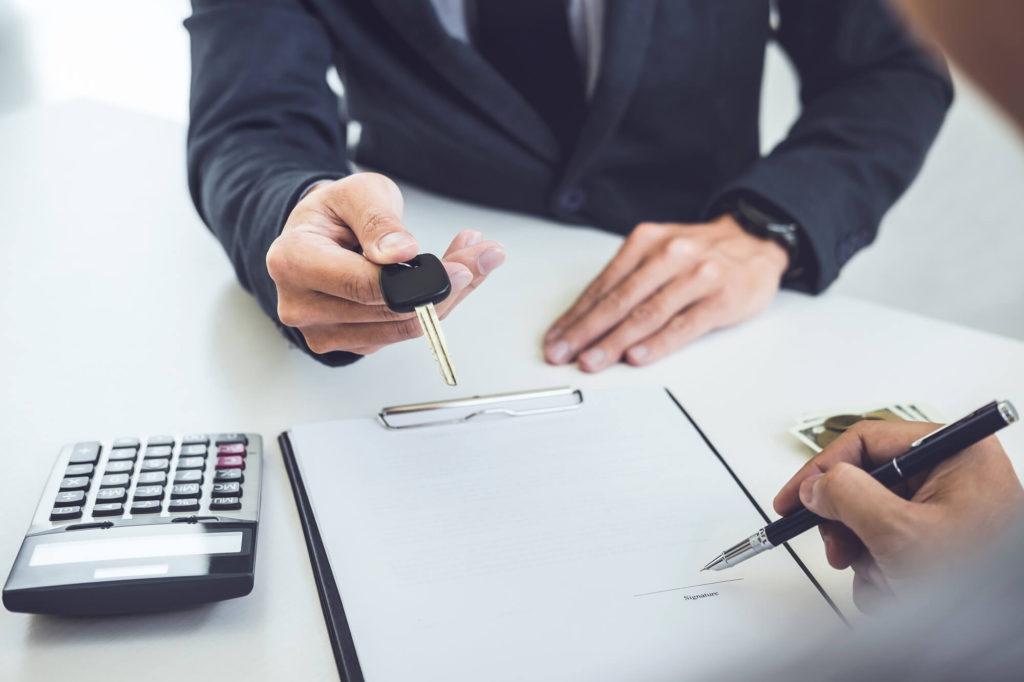 If you want to own the vehicles immediately, a business loan would be a better option. This is because upon purchase, ownership of the vehicles will be transferred to you immediately.
Furthermore, if you are taking an unsecured loan, in which you do not have to put up your vehicles as collateral, there is no risk of losing them when you default on your loan.
Another advantage of using business loans to fund your fleet is that if you have some money remaining, you can use this sum for other company expenses. For instance, you can pay your suppliers, invest in new technology, or buy better office equipment for your staff.
On the other hand, with hire purchase, you will not legally own the vehicles upon purchase. Instead, the lender will buy the vehicles on your behalf and have the ownership rights. In a way, you will be renting them and only get ownership rights when you have made full payment.
In addition, hire purchase can be a very risky option if your business operations are highly dependent on them, as the lender can seize them when there is payment default.
Given that the value of the vehicles will depreciate over time, having the full ownership only at the end of the tenure may not be worth the money paid.
How Your Business Is Performing
Both business loans and hire purchases allow you to afford expensive assets without making full payment upfront. However, if you do not have much cash flow to spare, a business loan may be a better option.
While both business loans and hire purchases allow you to spread out the cost in regular instalments, hire purchases require you to pay a down payment upfront. In general, most hire purchase agreements come with a maximum quantum of 70% to 80%. This means that the remaining 20% to 30% will have to be paid upfront.
Here is a summary of the advantages and disadvantages of using a business loan and hire purchase to fund your business fleet.
| | | |
| --- | --- | --- |
| | Business loan | Hire purchase |
| Advantages | Wider range of useImmediate ownershipNo risk of losing the vehicles with an unsecured business loan when there is payment default | Longer tenureMore flexibility |
| Disadvantages | Shorter tenure | Get full ownership only after full paymentRisk of losing vehicle when there is payment default |
What Are The Requirements For A Business Loan?
Planning to get a business loan to fund your company vehicles? Applying for a business loan in Singapore can be hassle-free with Capitall.
To apply for a loan at Capitall, the business needs to be in operation for at least 10 months and be either an LLP or a private limited company. An annual revenue of S$100,000 is also required to qualify for a loan.
Documents needed for the business loan application include:
Company bank statements for the last 6 months
Company financial statements for the past year
Latest CBS credit report
Latest MLCB credit report
A personal guarantee
For tips to increase your chances of business loan approval, be sure to head over to our guide here.
When applying for a business loan, avoid these mistakes as well.
What Are The Requirements For A Hire Purchase Loan?
Prefer to fund your fleet of cars and motorcycles in Singapore with hire purchase instead? You can do so with Capitall as well.
In fact, Capitall offers hire purchases to both individuals and companies.
Do note the following requirements to qualify for hire purchase.
For individuals, you have to be:
A Singaporean or PR
21 years old and above
For businesses, you will need the following documents:
A copy of the company's ACRA
NRIC copies of the company's director or sole proprietor
Proof of income: Income Tax Notice of Assessment for the past 2 years or company bank statement for the past 3 months
At Capitall, we do not want to see businesses miss out on opportunities due to a lack of funding. Whether it is for vehicle purchase or business expansion, we are committed to providing the best and most affordable business loans to entrepreneurs.
Apply for a loan with us today and get it approved within one day.