Business Loan
Invoice Factoring In Singapore: What Every Business Needs To Know
06 November 2020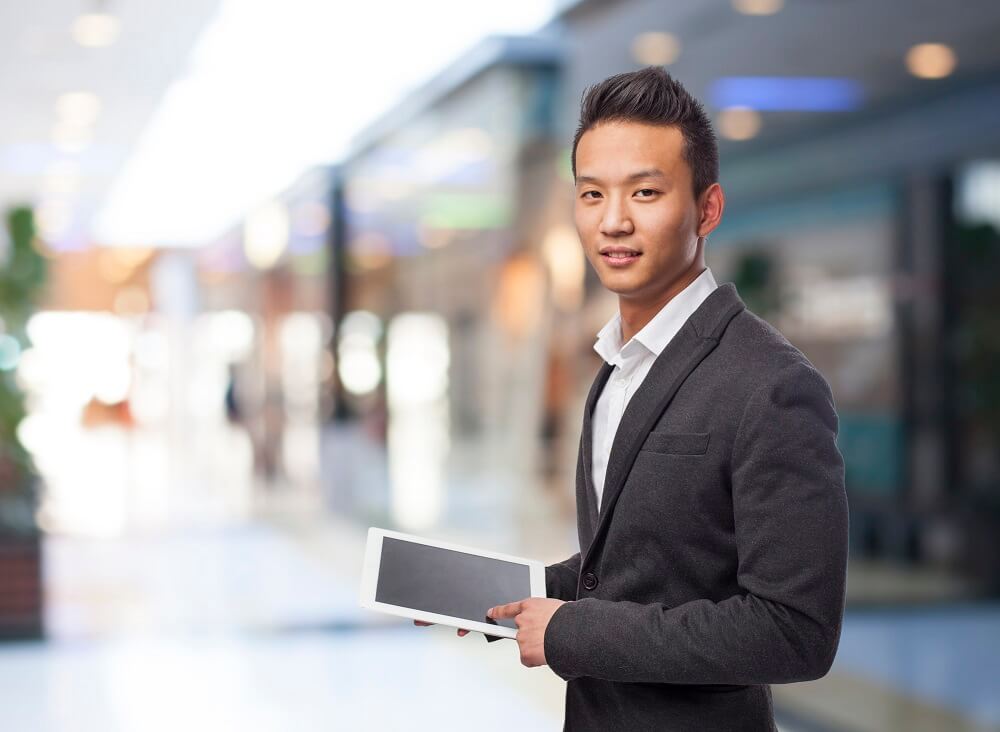 Did you know that a lack of funding and working capital are among the common reasons why businesses fail? And how could invoice factoring in Singapore come into play?
Running a business can be challenging, especially in a competitive environment such as Singapore. Businesses need to stay in-the-know and be quick to adapt. More importantly, companies need to have good cash flow.
Is your business facing cash flow issues? Do you have outstanding invoices that are holding up your cash? If you are facing such a situation and are looking for ways to bring in more funds for your company, you could consider invoice factoring.
Whether the funds will be for business expansion, to seize business opportunities, or to simply clear debt, invoice factoring in Singapore might be able to help.
What Is Invoice Factoring?
Invoice factoring is a type of invoice financing that allows businesses to release cash tied to outstanding invoices. Sometimes, businesses need extra funds urgently and a significant amount of funds is held in outstanding customer invoices to customers that are not yet due.
When working with a financial institution to carry out invoice financing, the institution can take over the sales ledger, which includes collecting payment from your customers. The financial institution will also advance up to 90% of the value of your invoices to you.
Once the financial institution collects the balance amount from your customers, they will pass it on to you, minus the fees payable to the financial institution.
Invoice factoring in Singapore is suitable for businesses that are facing cash flow issues, or want some help collecting payments from customers. Having a financial institution assist you with invoice collection saves you time and energy so you can focus on managing and running your business.
Here is a step-by-step breakdown of how invoice factoring in Singapore could work with a financial institution.
Invoice factoring: Steps involved
Step 1: Send your invoices to your customers, while sending a copy to the financial institution you are working with for invoice factoring.
Step 2: The financial institution will provide you a cash advancement of 80% – 90% of the value of the invoices.
Step 3: The financial institution will collect payments on your behalf, while you focus on running your business.
Step 4: Any remaining balance will be passed to you, minus the fees to the financial institution.
Want to learn more about invoice financing in general? Take a look at this article here.
How Is Invoice Factoring In Singapore Different From Invoice Discounting?
Invoice factoring and invoice discounting are both invoice financing options for businesses. However, there are some key differences in the way things are handled.
Let's first look at the similarities between invoice factoring and invoice discounting:
Both are short-term financing options for businesses in Singapore, helping to release cash tied to outstanding invoices.
There is no need to put up assets as security.
Both methods allow for quick cash advancements, which can help solve immediate cash flow issues.
On the other hand, there are some key differences between both:
Invoice factoring is typically used by smaller businesses, while invoice discounting is usually used by larger and more established companies.
In invoice factoring, a company's sales ledger can be handled by the financial institution and the institution will help to collect payments, which is a beneficial value-added service especially for smaller companies.
The financial institution can have complete control over the sales ledger in invoice factoring. In addition, the company's clients will be made aware of this invoice factoring arrangement. On the other hand, invoice discounting does not involve the financial institution controlling the sales ledger and collecting payments. As such, invoice discounting may be preferred for companies who rather not have a third party involved so they can better maintain their client relationships.
In short, choosing between both invoice financing methods will depend on how willing you are to let an external party manage your sales ledger, and if you are open to having them liaise with your clients instead for payments. It could also depend on how large and established your company is.
What Are The Benefits Of Invoice Factoring?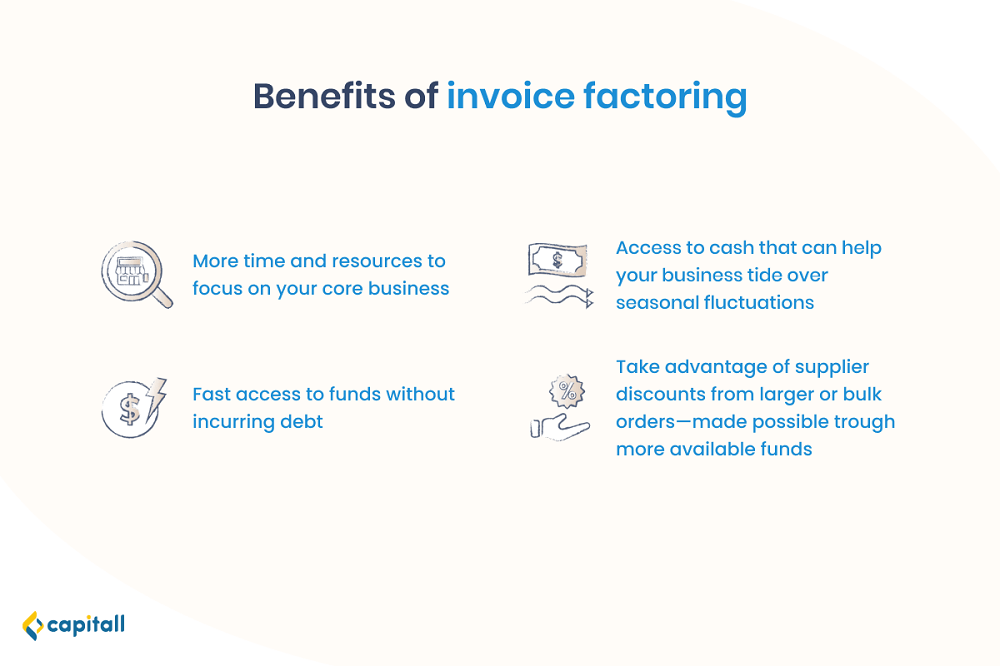 A business can sometimes face unexpected financial difficulties regardless of how well things have been planned. The world's economy is taking a hit in 2020, with countless businesses in Singapore struggling due to the COVID-19 pandemic.
Let us look at the benefits of invoice factoring, so you can understand if it is something to consider for your business.
1) More Time To Focus On Other Business Aspects
Invoice factoring helps to free up time from managing payments from customer invoices.
With the financial institution helping to collect your outstanding invoices, you could spend more time on more strategic or critical aspects of your business.
This can include planning out your business expansion, analysing what your competitors are doing, or getting to know your customers better.
2) Helps You Better Manage Seasonal Fluctuations Or Unexpected Situations
Getting access to cash tied to outstanding invoices could help your business tide through seasonal fluctuations.
With the extra cash, you could be in a better position to cope with unforeseen situations like COVID-19, or seasonal events like Chinese New Year or Christmas where you need to purchase more supplies.
This would be particularly relevant for small businesses or those in the F&B sector.
3) Take Advantage Of Bulk Order Discounts
Since invoice factoring in Singapore frees up more cash for you, you can take advantage of supplier discounts by making larger or bulk orders for supplies.
This could help you gain a comparative advantage against your competitors. In short, a comparative advantage is the ability to produce goods and services at a lower cost compared to competitors.
That way, you could enjoy higher revenue and sales margins, and potentially build a better relationship with your suppliers.
4) Access To Cash Without Incurring Debt
With invoice factoring, you will be able to access cash quickly without getting into debt.
This means you will not have to expose yourself to the risk of late payments and hurting your credit score.
Of course, if you are comfortable taking a business loan in Singapore, there are several options you can consider. Learn about them in this article.
What Kinds Of Businesses Will Benefit From Invoice Factoring In Singapore?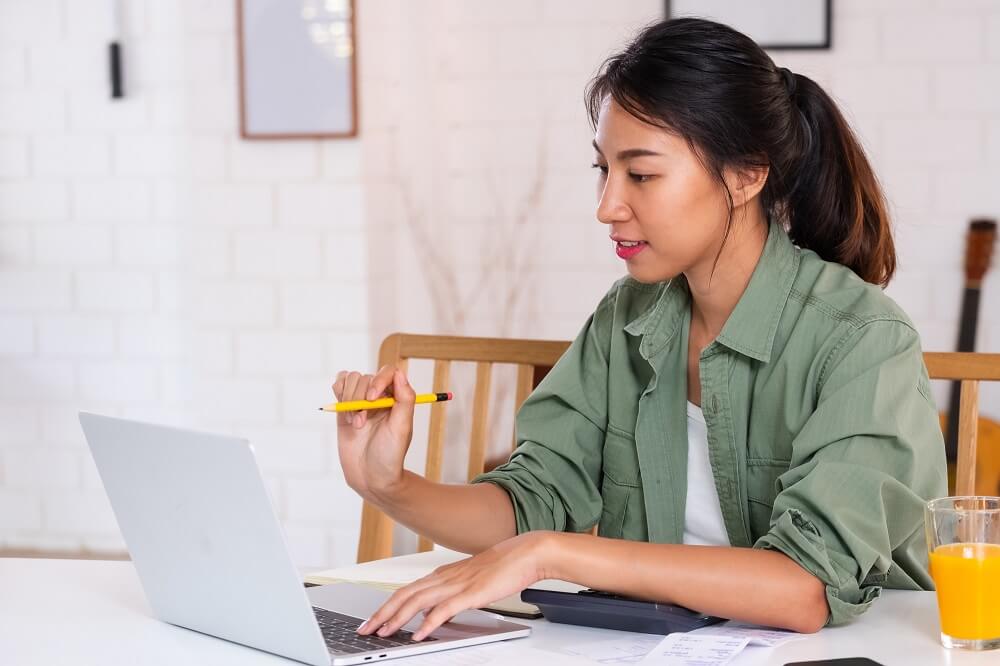 Invoice factoring has a number of benefits for businesses. In general, there are 2 types of companies that could stand to gain more through invoice factoring.
1. Smaller Or Younger Businesses
Smaller businesses such as startups may often find themselves lacking in resources.
Through invoice factoring, financial institutions can step in to help with managing sales ledgers and payment collections. This will allow the company to better divert resources and manpower to more pressing needs or matters that require more attention.
Younger businesses also stand to benefit from quicker access to funds, allowing them to boost their cash flow and quickly invest in new opportunities when they arise. After all, it has been said that timing can be the single greatest reason behind a startup's success.
2. Businesses Looking To Expand
A company should never remain stagnant, and should always continue to innovate and evolve.
Invoice factoring gives you quick access to cash that can allow your business to do so. While there is a fee payable to the financial institution, invoice factoring can create more financial bandwidth for you. This will allow you to execute expansion efforts that could benefit your business in the longer term. What's more, you get to outsource invoicing matters to the financial institution.
Every business is unique, with certain financing options more suitable depending on the nature of the business or the situation it is facing. When working with any financial institution on financing your business, remember to first do your due diligence and ensure you are financially prepared.
Here at Capitall, we offer a variety of business loans tailored to your unique needs. Reach out to us and get your business loan processed and approved within 24 hours. .