Business Loan
Business Loan In Singapore: What Is Auto Financing – Car Flooring Loan?
14 August 2020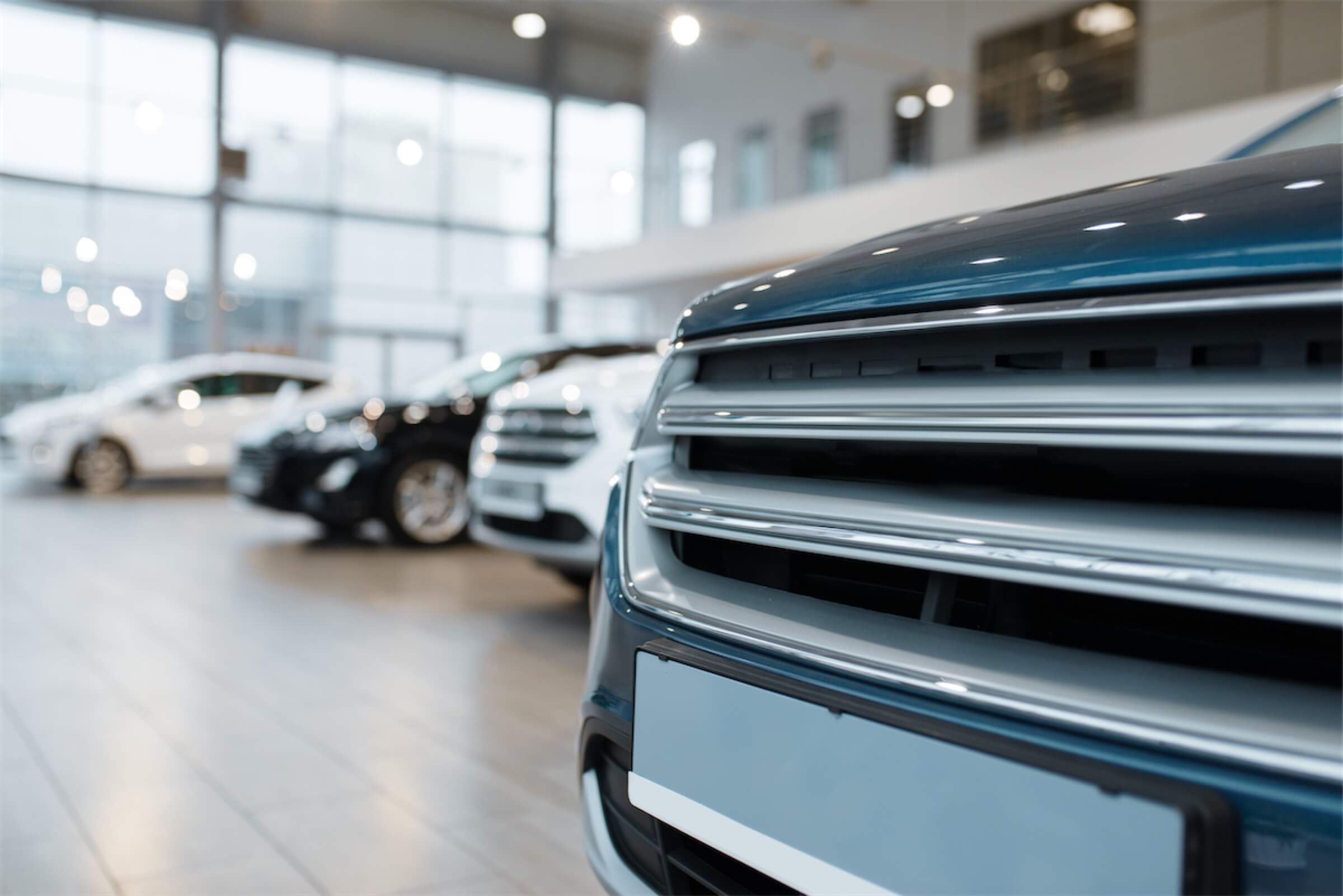 Whether you're a business owner in the automobile dealer industry or looking to start up your own auto dealership, you'd probably know how expensive inventory for automobiles is. Businesses that have to deal with such huge purchases usually take up business loans in Singapore to manage their inventory and showroom.
For a business owner in an auto dealership, to convince consumers to buy the cars you retail, simply doing online marketing and advertising is never enough. Having an impressive showroom that lets your potential customers see and test the vehicles themselves is what truly converts sales. And that's the challenge for all car retailers.
Vehicles are not cheap and just keeping the lights on for your business costs money. Because of that, getting an auto financing loan is crucial for anyone in this line of business.
Here, we'll discuss how auto financing loans work and how you can leverage this form of loan to expedite the growth of your business.
What Is Auto Financing: Car Flooring Loan?
There are many common terms in the market that you might be familiar with. Floor planning, car stock financing, car flooring—these terms all mean the same. For this article, we will be covering auto financing — car flooring for car dealers.
Auto financing simply refers to the loan given to car dealers to purchase a large volume of inventory. This form of loan is taken mainly by those in the automobile industry, especially dealers of new or used cars.
Auto financing can be considered a secured loan as the inventory purchased is used as collateral. So if you default on the loan, you can use the asset—the automobiles in this case, to repay the funds.
Here's a table to quickly explain the differences between a secured and unsecured loan.
| | |
| --- | --- |
| Secured loan | Unsecured loan |
| Considered a low-risk loan to lenders | Considered a high-risk loan to lenders |
| Backed by a piece of collateral | Not protected by any collateral |
| Defaulting on the loan could result in the lender taking possession of the collateral | Defaulting on the loan does not result in the lender taking your property |
| Tend to have lower interest rates | Tend to have higher interest rates |
| Tend to offer higher borrowing limits | Tend to offer lower borrowing limits |
| Easier to get | Harder to get |
Auto financing is a great form of loan. It ensures that you have inventory in place when the opportunities for sales arise, without needing you to self-finance the purchase.
How Auto Financing Works In Singapore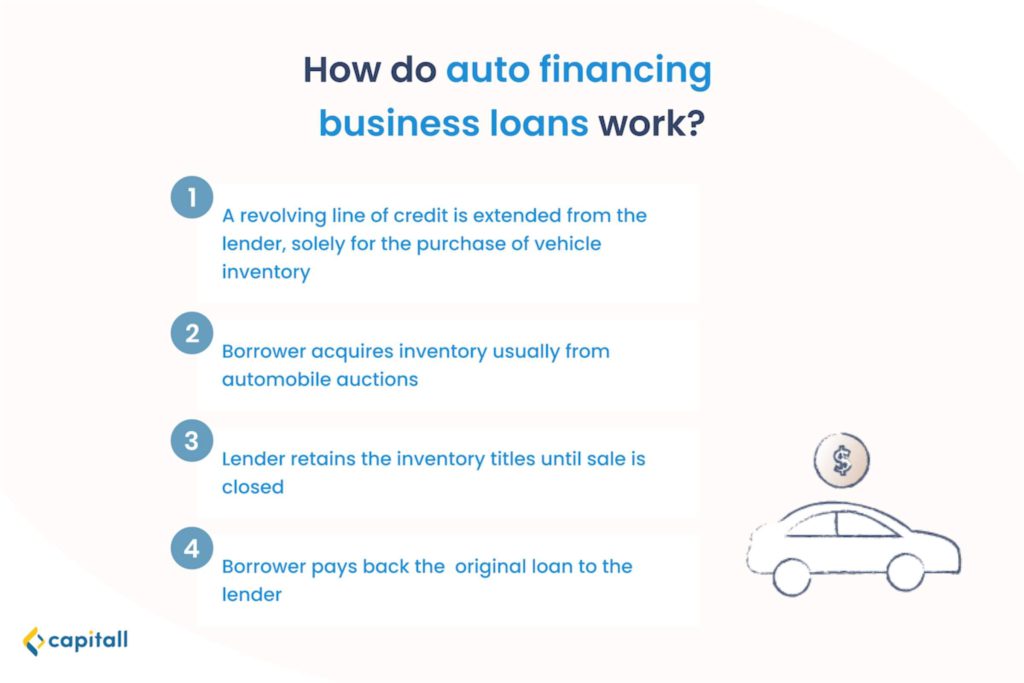 Auto financing is quite straightforward. Essentially, it is a revolving line of credit that is extended to you for the sole purpose of purchasing vehicles for your inventory.
As a car dealer, you'll usually acquire your automobile inventory through automobile auctions. Your lender will retain the title of your inventory until you close a sale. As such, you don't need to fork out your own funds to finance your inventory. Once you have closed the sale, you'll have the funds to pay back the original loan.
But what if there are no sales? Well, you don't have to worry too much as these loans are secured loans. In the event where you cannot make a timely repayment, your lender will acquire ownership of the vehicles.
Benefits Of Auto Financing Loan In Singapore
There's a range of benefits you can get from auto financing. Auto financing can help you streamline inventory acquisition and in many ways, reduces your financial burden of running the business.
Reduce Administrative Costs
It can also help to reduce administrative costs. By taking this form of loan, you'll be able to channel the funds you have on hand in other areas. For instance, improving the quality of marketing, providing training for your staff, focusing on building up, or expanding your business — these are just some of the many areas you can turn your attention to.
Increase Your Working Capital
Since auto financing can help you shoulder the burden of the largest costs of purchasing inventory, it can drastically increase your working capital overall. In effect, this could translate to improved cash flow and also frees up your funds for other expenses.
Not sure what working capital is or how much you need exactly? Read more about it here.
Better Customer Experience
For auto dealers, auto financing loans not only benefit the way you run your business, it could also translate to added benefits for your customers. As you focus on improving your services, customers will have a better overall purchasing experience with you.
Additionally, they can also have access to a wider selection of vehicles to choose from as the loan allows you to buy higher volumes of inventory.
This, in turn, boosts the reputation of your business as well.
Every auto business has different financial needs, and it's important to get a loan that suits your business. Capitall provides business loans specially catered to auto financing. Reach out to learn more about what Capitall has to offer.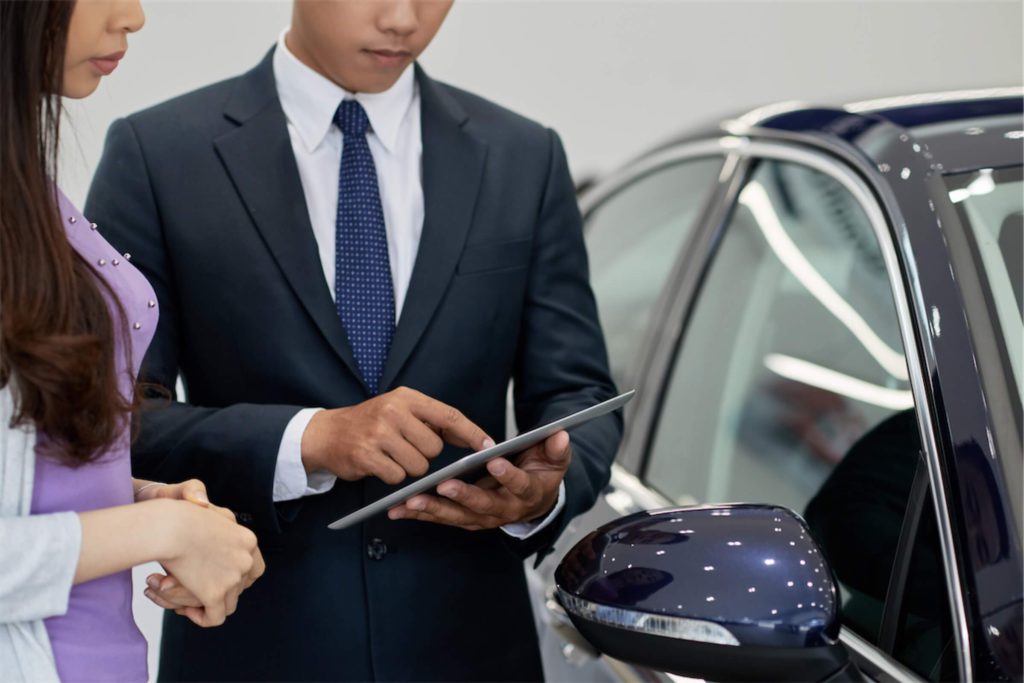 What To Take Note When Taking An Auto Finance Loan
Before you dive in and apply for an auto finance loan, here are a few things to take note.
1. Borrow Within Your Means
While auto financing can help you shoulder your business' financial burden, it is crucial to remember that it's still a form of loan that needs to be repaid.
Hence, you should not buy more inventory than you can sell. When taking an auto financing loan, you will need to plan ahead and make projections on your sales. Always purchase inventory in proportion to your sales figures and not be overly ambitious.
2. Be Timely In Your Payments
Making timely payments applies to all forms of loans. Skipping your payments or being late will raise red flags about the stability of your business.
It could cause lenders to believe that perhaps your business is doing poorly, and you are unable to manage your finances properly.
This could have repercussions and could be reflected in your credit scores. Having poor credit scores as a business owner will hurt your business if you need to get a loan in the future.
3. Build Trust With Your Lender
Auto dealerships, especially, are volatile with vulnerable inventory turnover. This makes sales and projections more unpredictable and thus, could make financial planning difficult for you.
As such, to secure loans, you will need to ensure that you have a healthy relationship with your lender. You need to build trust and inform your lender of any changes that are affecting your business and inventory, instead of keeping them in the dark.
In 2016, a car dealer boss was jailed for cheating buyers and finance companies a total of $3.16 million in money and cars. The used-car dealer had been running a scam and default on repayments of loans.
No matter how trivial the changes are (e.g. moving storage location), constant communication should be in place. The last thing you want is for your lender to lose trust in your business.
4. Manage Your Account With The Lender Properly
Last but not least, you should also manage your auto finance account properly.
Being in a business that sees a lot of volatility makes it difficult enough to secure loans. You need to do whatever you can to show your business is doing well and can manage its finances responsibly.
Managing your auto finance account is key in building trust with your lender. Always be clear about your expectations and be responsible for repayments. This will benefit your business in the long run.
Getting A Loan For Your Business Isn't That Difficult
If you are having problems securing business loans, read more about our tips to improve your chances of getting your loan application approved.
Ready to get an auto financing loan? Get in touch with professional advisors at Capitall to help you get started.